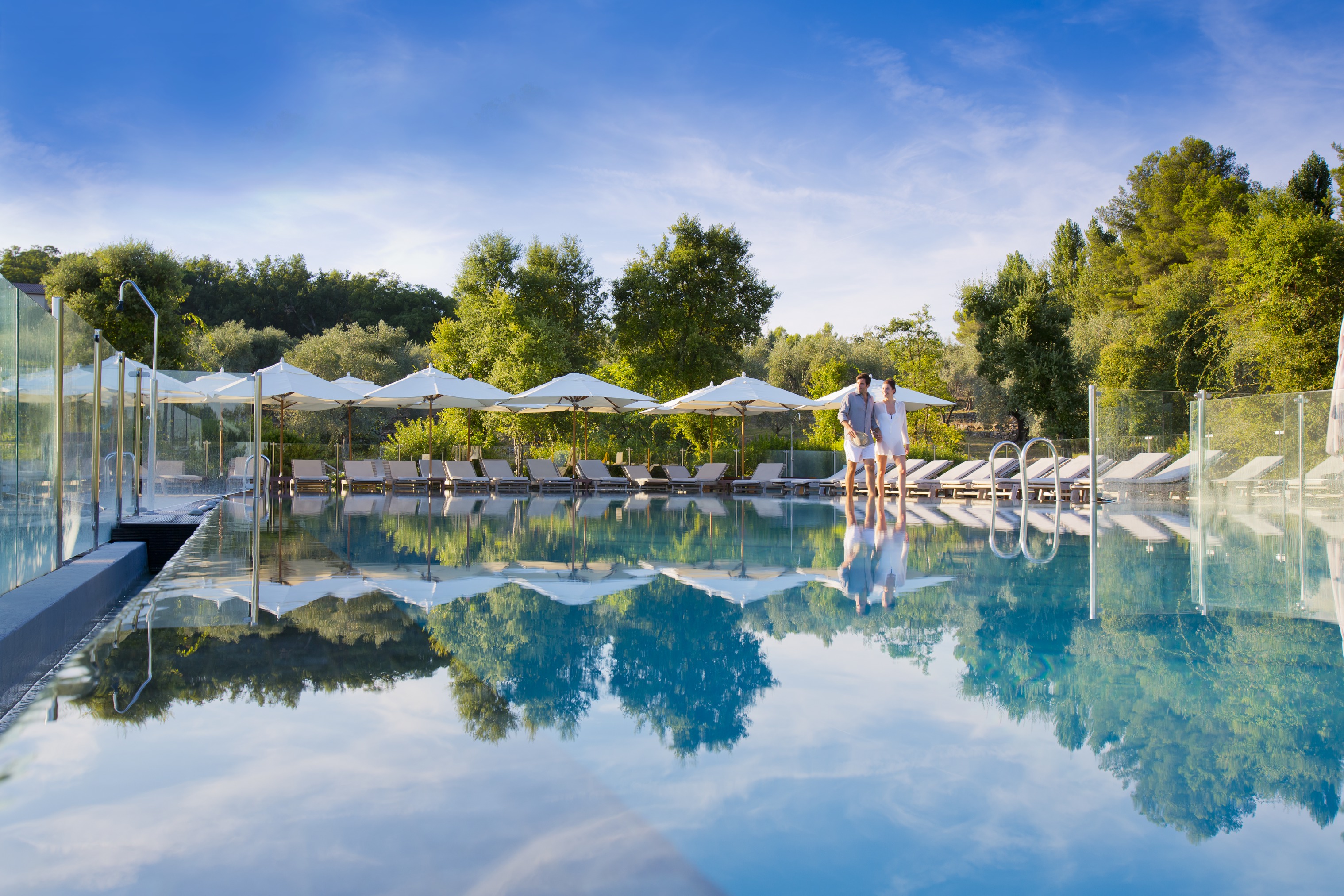 Two nights' stay at Club Med's south of France holiday venue at Opio en Provence is not enough time to do it justice and unfortunately the inclement weather meant we did not see it at ist best. However, for a Club that was fully booked it was amazingly relaxing and I almost felt I had the place to myself at times in the beautiful and extensive gardens and grounds.
Club Med Opio en Provence offers fmalies an all-inclusive holiday with the option of paying for extra childcare, a game of golf and a treatment or two at the spa. Included in the price is a range of activities including archery and tennis and, of course, the swimming pool plus use of the sauna and Hamman steam room for over 18s. In fact, one of the joys of Opio en Provence is that fact that adults can escape their (or other people's) children in the spa, gym and exercise classes and what was for me a fabulous experience: the Zen swimming pool set in the midst of a huge olive grove which is an infinity pool where adults can swim to classical music.
Obviously an important factor in choosing an all-inclusive holiday is the quality of the food. At Opio en Provence excellent food to cater for all tastes and palates was provided. My only criticism was there was simply too much The extensive salad bar is pure joy as is the cheese table. And, although catering for huge numbers (it is self-service) much of the food is cooked to order in front of you. Each evening there is in addition to the French fare, a different cuisine to choose from. While I was there it was Chinese and Morrocan. I definitely recommend the Morrocan fish stew with cous cous.
Food is available at regular meal times but there are also snacks, cakes etc should you feel peckish in-between. All drinks except Champagne and certain wines are free. There is a separate toddler dining-room where food can be made to order or parents can prepare a favourite meal. A bonus for those unaccompanied by children is an adults-only restaurant.
While this area of France is noted for is amazing light and was so popular with artists, the rooms at Opio en Provence did not benefit from this and were rather dark. They are well-appointed and comfortable. Mine was a twin with an extra bed available for a child but it would have been a tight fit. Most families would opt for interconnecting or one of the larger family rooms which we were unable to view as Opio was fully booked.
One drawback we encountered was that if it does rain, you are going to get wet, going back and forwards to your room plus there are steps which have no banisters which may be difficult for some people to negotiate.
For anyone who likes the all-inlcusive element of of a Club Med holidya with the option of having some ault-only time I would certainly recommend considering Opion en Provence.
PWT rating: ♥♥♥♥♥
Facts:
Opio en Provence is near to Canne and Nice
The resort is the only French holiday resort to have been awarded the European Eco-label for holiday accommodation.
Maximal capacity is 960 beds which are divided in 435 bedrooms (+ 50 cots).
There are 130 GO's (Gentil Organisateurs) working at the resort on average, with high season seeing up to 170 GO's hands on deck.
An average 213 staff are working at Opio, and in high season. For other services such as maintenance there are an additional 40 – 50 staff
Prices:
For Opio en Provence 4T, France, departure from London for a seven night all inclusive holiday will cost: £1229 per adult (was £1379) for a departure on 14 July. Savings made with the Early Booking Bonus: book by 15 May to save £150 per adult and if you upgrade to a suite you would save £200 more
For more information and booking visit Club Med:Opio en Provence