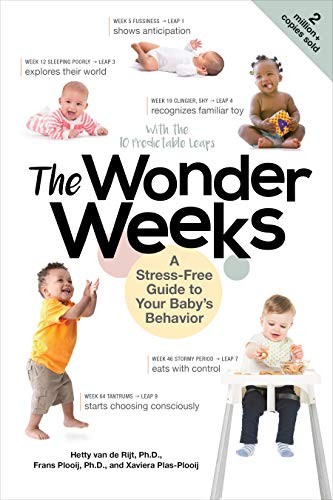 The Wonder Weeks – A Stress-free Guide to Your Baby's Behaviour
by Xaviera Plas-Plooij, Frans X. Plooij and Hetty van de Rijt is based on bround-breaking behavioural research in the Netherlands and has become a word-of-mouth sensation with over two million copies sold and four million downloads of the companion app (making it one of the top ten paid apps overall). the book provides the complete picture on those precious – and challenging! – first years of life.
It includes:
Top ten lists of what to expect for each leap

Checklists of behaviour and skills and explanations for understanding what they mean

Practical suggestions to help parents cope with their baby's changing behaviour

Games and activities to help parents support their baby's mental leaps

Exclusive-to-this-edition material on solving deep sleep problems, prioritising parental self-care, and accepting that #blessed comes with being #stressed
The 10 Leaps That Happen in a Baby's First 20 Months of Life:
The World of Changing Sensations (around five weeks)
The World of Patterns (around eight weeks)
The World of Smooth Transitions (around 12 weeks)
The World of Events (around 19 weeks)
The World of Relationships (around 26 weeks)
The World of Categories (around 37 weeks)
The World of Sequences (around 46 weeks)
The World of Programs (around 55 weeks)
The World of Principles (around 64 weeks)
The World of Systems (around 75 weeks)
New mum Jo writes:
The Wonder Weeks details the various developmental "leaps" that children go through in their first year. Whilst it doesn't profess to perfectly describe how or when these will take place for every child, I found it to be very informative, and for us, within a week of me reading the first chapter, I think it's fair to say that our newborn had his first "leap".
The book was helpful in showing me that his fussy and clingy behaviour that week was all very normal and something that would be temporary - three nights later our much less fussy baby returned!
As our baby grows it will be useful to use the book to understand the changes he is going through and the behaviour to anticipate. The book contains various skills that your baby will learn throughout his first year and a host of activities and games that you can do with your baby – whilst many of these are largely intuitive, it's definitely helpful to have them all in one place and a useful reminder when you may be feeling a little tired!
All in all, definitely worth a read and I'm looking forward to seeing how we get on with our next "leap"!
PWT rating: ♥♥♥♥♥
The Wonder Weeks: A Stress-Free Guide to Your Baby's Behavior (6th Edition)
on Kindle and paperback The Wonder Weeks - A Stress-Free Guide to Your Baby`s Behaviour
from Amazon.