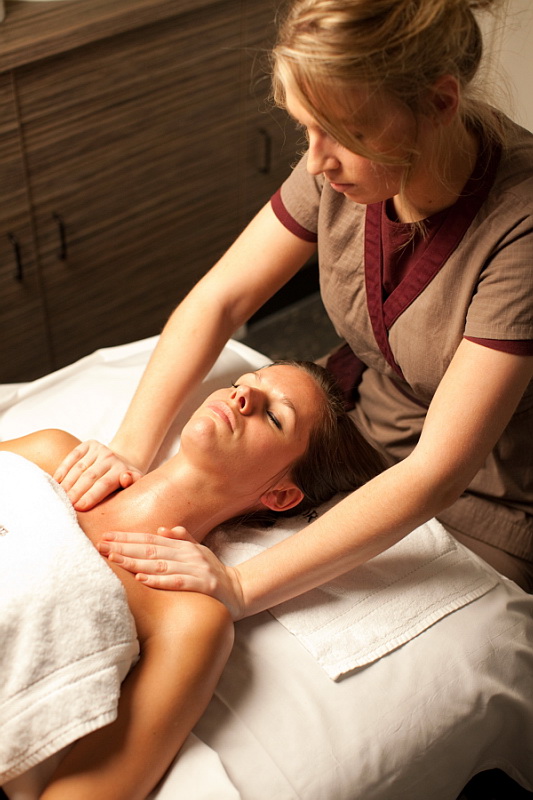 From the moment Anne and I collected our buzzers from
The Lifehouse Spa
reception the expectation of an
ESPA personalised massage
was clear – supreme
pampering
at its best!
After completing a simple
health
and
well-being questionnaire
, including identifying
areas
on our body that we thought would need
special attention
, we chose to wait in
The Chill
area. This
low light environment
was adorned with
comfy sofas
and relaxing
massage chairs
.
There were
two
other main
waiting areas
, one a
Juice Bar
with balcony overlooking the amazing
grounds
attached to the Spa, the other a more conventional
soft sofa area
with magazines. By the way I
highly recommend
trying the
smoothies
.
We did not have to wait long before our
buzzers
summoned us to our
individual treatment rooms
. Abigail, my personal masseuse, greeted me and I was taken to a secluded and quiet treatment room, well away from the main drag. As I had just finished a session in the
sauna, steam rooms
and
swimming pool
, Abigail gave me a pair of black
paper pant
s to wear during the treatment. She then explained what I needed to do to
prepare for my massage
and left me to get ready on the
treatment table
and arrange myself under the
large soft towels
(and duvet if I was a bit chilly). I opted for the towels, de-robed and put on the pants, taking a little time to work out which way round they should go (G-strings were never my thing!). In no time Abigail was back and
sitting quietly
by my side, ready to ask a
few questions
in order to ensure that the
massage
was
designed
to meet my
personal needs
. She then talked me through a simple but effective
sensory test
, placing small quantities of
two different massage oils
on the back of my hands, to determine which
best suited my mood
. Having taken a
deep inhalation
of both I elected to go with the
ESPA "Energizing" oil
, in order to "
revitalize and lift
" me.
The total
massage experience
was heaven in disguise –
neck, shoulders, back, arms
and
legs
, gently but
expertly pummeled
and soothed. The ultimate pleasure came towards the end of the 55 minute session with a
hair and scalp massage
using
ESPA Pink Hair and Scalp Mud
(£31 for 200g and £18 for 100g). This product, recommended by Abigail as a
tonic
for my
dry hair,
worked extremely well. It is reported to "
soothe, smooth and nourish
" and it certainly lived up to this description. A week later my
hair is still seeing the benefit
s. On several occasions during the massage I felt myself
slipping away,
as calming
music
played very quietly in the background. The bliss of tranquility...
Once finished Abigail went through
recommended after care
and discussed
possible products
that might assist my
skin type
and improve my
well-being
. I confess to being smitten by the
Pink Hair & Scalp Mud
and it will appear on my
Christmas stocking list
, if I manage to last that long. Abigail also recommended it as an
aftersun lotion
– an even better excuse for buying it early.
The
ESPA personalised massage
lasts 55 minutes and costs £65 - and is
worth every penny
!
PWT rating
: ♥ ♥ ♥ ♥ ♥
Treatments which range from
facials
and
manicures
to massage can be booked in advance at the
Lifehouse Spa & Hotel
.