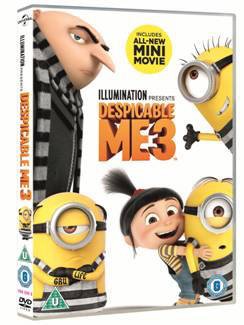 The mischievous Minions hope that Gru will return to a life of crime after the new boss of the Anti-Villain League fires him. Instead, Gru decides to remain retired and travel to Freedonia to meet his long-lost twin brother for the first time. The reunited siblings soon find themselves in an uneasy alliance to take down the elusive Balthazar Bratt, a former 1980s child star who seeks revenge against the world...
Harriet aged seven writes: "Despicable Me 3 was scary but very, very funny. Lucy is really pretty but she has a very pointy nose like her husband Gru. Their three daughters are called Margo, Edith and Agnes and there are loads of cute Minions who speak a different language.
"I really loved this film."
This heartwarming comedy provides hours of family fun with almost an entire hour of exclusive bonus features including:
All-New Mini Movie — The Secret Life of Kyle
Minion Moments — Watch the Minions cause more hilarious mayhem with Gru
Deleted Scene — With intro by Dana Gaier, the voice of Edith
Character Profiles — The inside scoop on the most popular characters, from the actors who play them
The Making of Despicable Me 3 — A behind-the-scenes look at the making of the movie
Developing Dru — Behind the scenes character development of Dru
The AVL Files — Through the lens of the Anti-Villain League's hi-tech database, this ultra secret, interactive surveillance briefing showcases all of the agency's amazing creations and top agents
Despicable Me 3 makes a perfect Christmas present or a pre Christmas treat for some wind-down time.
PWT rating: ♥♥♥♥♥
Illumination and Universal Pictures Home Entertainment present Despicable Me 3 now available on on DVD, Blu-ray™, Blu-ray 3D™ and 4K Ultra HD.
Despicable Me 3 (DVD + digital download) [2017]
Despicable Me 3 [Blu-ray] [2017]