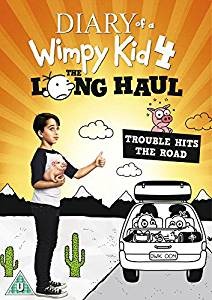 In Diary of a Wimpy Kid 4 – The Long Haul the Hefley family are off on a road trip to get Meemaw's to celebrate her 90th birthday. The trip takes a turn for the worse when the destination of the car GPS is changed by Greg and they end up at a video gaming convention!
To make matters worse they end up losing some of their belongings, covered in mud, making an enemy in the motel who they keep bumping in to and gaining a pig into their family mix!
Will The Hefley's ever make it to Meemaw's?
If you like a bit of slapstick humour you'll find this film tickling you from start to finish.
Diary of a Wimpy Kid 4 – The Long Haul is a good Sunday afternoon family watch.
Blu-ray™ and DVD Special Features
Making A Scene

Greg Heffley's 10 Rules For The Perfect Road Trip

Road Games

Learn To Draw

A Decade Of Wimpy Fun

Bloopers And Deleted Scenes

Deleted Animation

Haulin' Through Georgia
PWT rating: ♥♥♥♥♥
20th Century Fox Home Entertainment presents
Diary Of A Wimpy Kid 4: The Long Haul [DVD] [2017]
available from Amazon.