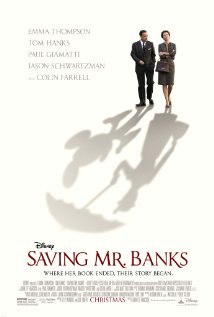 Even if you didn't know or love the film of Mary Poppins, the super nanny who flew in on an umbrella and took over the Banks household, you could enjoy watching how Walt Disney managed – after 20 years – to get the film rights on P L Travers' book.
The two central characters played to perfection by Tom Hanks and Emma Thompson, argue and bicker (P L Travers needed the money but wasn't giving in easily) against a back story of Travers' childhood in Australia living with an impossibly romantic and fun father Travers Goff (Colin Farrell), an alcoholic dreamer who dies after promising the young Helen he would never leave her.
Saving Mr Banks is unashamedly sentimental – when Walt Disney discovers P L Travers' true identity, he shares his own story of childhood woe over a cup of tea, laced with whiskey instead of the author's "spoonful of sugar", to finally persuade the author to sign over the movie rights.
There are some great comic moments as well as some very moving scenes in Saving Mr Banks and it's a joy to watch how some of the iconic songs in Mary Poppins were written until P L Travers was won over by Lets go and fly a kite – Mr Banks was saved.
Great family viewing.
PWT rating:♥♥♥♥♥
PG rating at cinemas or pre-order the DVD from Amazon
Saving Mr Banks [DVD]