With FabLab from Interplay you can experiment, be creative and have fun with your style. Cool, trendy, colourful or just crazy fun – it's easy and quick to apply – and when you are done, simply wash or peel and it will all come off again.
Going to a festival, having a party or planning a sleepover, FabLab is the perfect range for a glamorous event! Safe and fully tested, FabLab cosmetics are 100 per cent non-toxic and designed specifically for children.
Harriet couldn't believe her luck when the sets arrived for review and we spent some time deciding which to use first. The Glitter Tattoo kit came out on top – but only just. She chose the lips to go on her arm. The tattoos are really simple to apply and look amazing. Even better they are easy to remove with soap and water.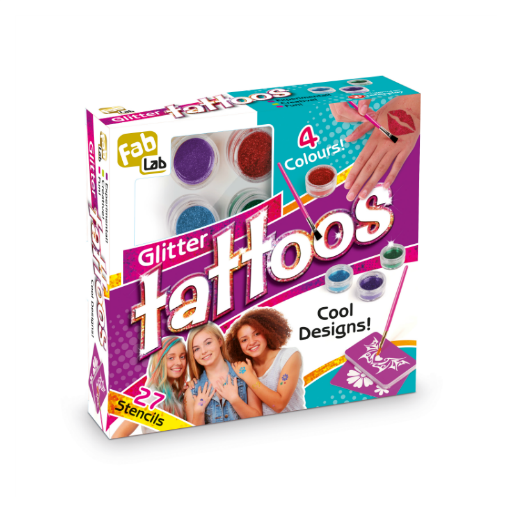 FabLab Glitter Tattoo kit (£9.99rrp)
Cool, trendy look

Four different colours of glitter and a bottle of body glue in the kit

27 designs

Easy to apply and remove

Long lasting, lasts up to a week
PWT rating: ♥♥♥♥♥
Next we were into hairdressing with Hair Lights. A pair of gloves are included to protect your hands when applying. Harriet chose three colours to compliment her strawberry blond locks and the blue we applied to the hair which framed her face looked stunning. However the colour does come off on to your hands if you keep running your fingers through your hair. So avoid doing this.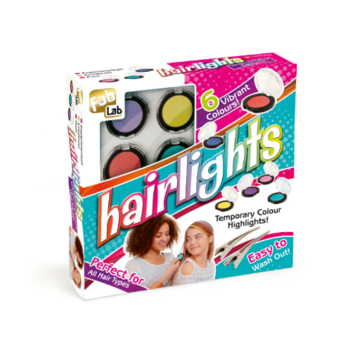 Fab Lab HairLights (£9.99rrp)
Six different temporary hair colours so you can follow the ultimate hair colour trends, eg ombre, unicorn, rainbow

Latest fashion trends – great vibrant colours

Easy to apply and washes off easily

Long lasting
PWT rating: ♥♥♥♥♥
Lots of fun to be had with Nail Art – Harriet always likes to have different colours on each nail so this set was perfect. Being able to experiment with shape and design is a bonus but we found that the sprinkles did not stay on although we followed the instructions to the letter.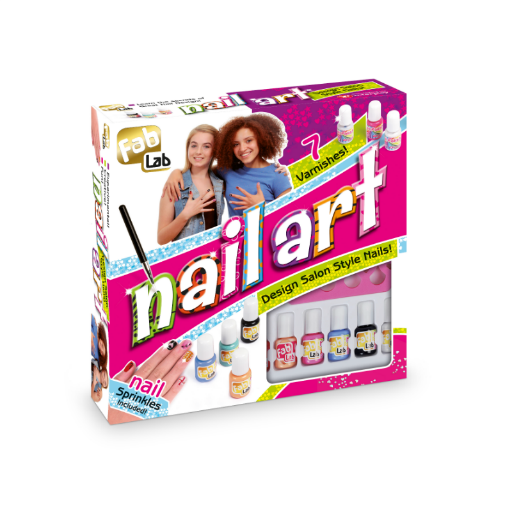 Fab Lab Nail Art (£9.99rrp).
Follow the detailed colour illustrated activity guide and learn how to create stunning nail designs.

Seven different nail polishes (including one clear) plus some nail sprinkles

Latest fashion colours, easy to use brushes and tools

Easy to apply, dries very quickly and peels-off easily

Solvent free, no harmful chemicals
PWT rating: ♥♥♥♥♥
Fab Lab kits from Interplay are all available from Amazon:
FabLab Glitter Tattoos Kit
FabLab Hairlights Kit
FabLab Nail Art Kit