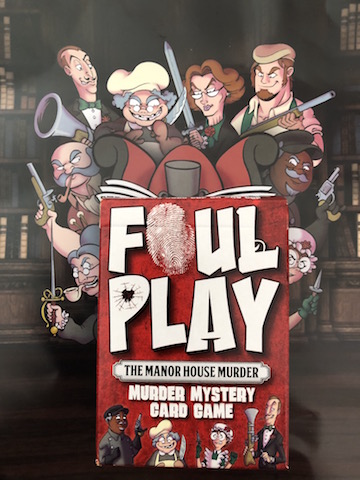 There's nothing we like more in the Coates family than board and card games as you may have noticed from our reviews. So I was eager to play Foul Play, a card game created by After Dark Murder Mystery Events.
On the box it suggests an age of 14 plus although on the website it's eight plus. Either way I had no worries about playing with Harriet (nearly 11) who had taken part in a Macmillan Murder Mystery Zoom event, played a major character and guessed whodunnit.
Foul play is similar to Cluedo and you can watch how to play here.
So forget lockdown and pandemics and step back in time to Edwardian England where Lord D'Arque has been murdered and all the eight servants are suspects. Each one has a reason to wish to be rid of the lord of the manor which you can check out here.
What you have to do is find the three evidence cards that will reveal the culprit during the play. Sounds easy but there are cards which can also help or hinder as well as red herrings galore.
Harriet and I played first and, as a crime writer, I am ashamed to say she not only understood the game far quicker than I did but also solved the mystery.
Next of we played in our "bubble". Four of us and have I ever mentioned how competitive my daughter is? The block card was made for her. Harriet won the first game and Olivia the second. There are endless possibilities for play and there are also two versions (using the same pack). You can be good cops or bad cops...
Another variation is to play the game on Zoom but you will need a set of cards for each family or friends. You'll find the rules and way to play remotely here.
This is a brilliant game for holidays and family gatherings as you can increase the number of players (five for one pack) by using two packs but discarding one set of evidence cards and using only one set of suspect cards.
Highly recommended for all would-be detectives, this perfect gem of a game proves that small parcels can be deceptively large in concept, design and entertainment.
PWT rating: ♥♥♥♥♥
Foul Play (£8.95) can be bought from the online shop
The website is a mine of fun information which you can download and print off if you choose to.