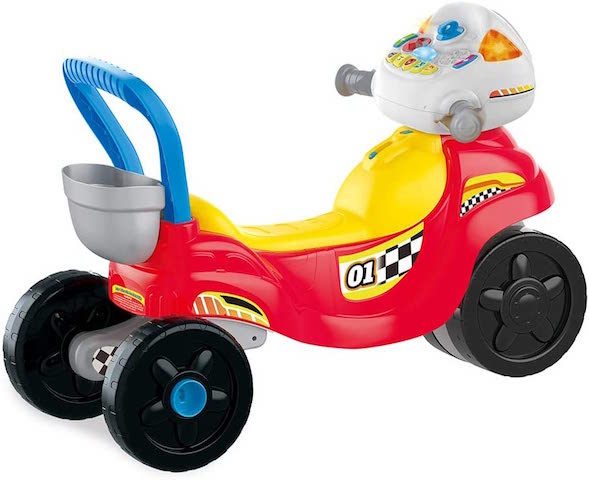 What a find! The V-Tech 3in1 Motorbike is an innovative, child-friendly approach to mobility, working at different levels as children develop. Initially it is a rocker and an early walker, allowing children to take those first steps with confidence. As the child grows it easily transforms into a 3-wheeler trike, with a good stable base. Then, amazingly it converts into a 2-wheeler balance bike – an incredibly versatile purchase.
We have four children in our support bubble, aged nine months, two years, four years and five years old. This toy works for all of them at different stages of physical development and learning. The nine month old is a confident crawler and just beginning to pull himself to standing. With support he loves sitting on the motorbike in its rocker mode and playing with the sound push buttons (more about these later). The two and four year old adore riding around on it as the low centre of gravity gives the V-Tech 3in1 Motorbike excellent stability. After initial squabbles about who gets to be the rider – the older children learnt that they could take turns pushing each other and then having a chance to ride. This supports co-operation and sharing – important social skills. The handlebars can be locked for the rocker and walker mode and then unlocked when the child learns to steer.
Now to the practical adult stuff: the V-Tech 3in1 Motorbike is incredibly easy to assemble, and just as important easy to convert from a rocker to trike to a balance bike, as the children grow or like us you have children of different ages. One warning though, it's useful to take a quick glance at the instructions for the "go-faster" stickers before fixing them to the bike, as they are not as obvious to position as first thoughts might suggest. However from experience this does mean each bike is unique.
Then there's the interactive aspect of the motorbike for the children to explore and experiment with. Different coloured lights, sound effects, buttons and songs. In fact it seems something for every child! Thinking our five year old would decide he was "too mature" to engage he became enthralled by the "can you find..."? questions – looking around, identifying and counting (for example) objects of different colours – simple but effective. Another key feature (for parents) is the quiet mode on the sound button. The V-Tech 3in1 Motorbike, with these interactive buttons, also develops language and listening skills, as well as imaginative role-play. Definitely an all-rounder.
The V-Tech 3in1 Motorbike has been designed by someone who knows what children like and what they enjoy doing- notice the basket on the back. I am totally smitten as are the four children. A real winner!
PWT rating: ♥♥♥♥♥ Priced at about £36
VTech 3-In-1 Ride with Me Motorbike, Baby Walker for Toddlers, Interactive Toy for Sensory Play, Educational Learning Games with Music, Ride On Toys for Role-Play, Suitable for 12 Months +