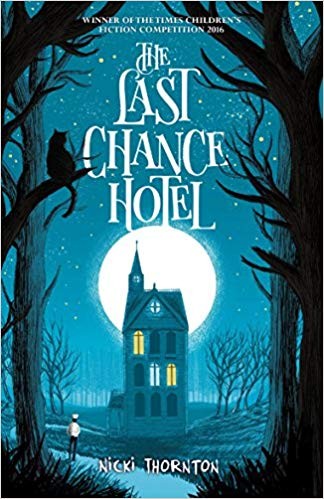 Published by Chicken House, Last Chance Hotel by Nicki Thornton is an engaging murder mystery with a heavy dose of magic.
Working at the remote Last Chance Hotel owned by the nasty Bunn family, young Seth Seppi, the lowly kitchen boy, struggles to appease the Bunns' daughter by creating a delicious dessert for the guests – a gathering of magicians – as well as a special one for Dr Thallomius who showed him a kindness Seth has never experienced since his father departed.
However when Dr Thallomius dies as a result of eating Seth's specially made dessert, the boy becomes the prime suspect. Seth is innocent but but how can he discover who the true culprit is when he is surrounded by a diverse group with magical powers. Who can he trust?
I loved this book. The magic is all around Seth – even before the arrival or the magicians – in the wonderful gardens and forest surrounding the hotel. The third person narrative is told from Seth's viewpoint and has you rooting for him from the first chapter. The mystery surrounding the mother he never knew and the father who disappeared is heartbreaking.
Short chapters drive the story forward – a perfect read for middle-graders, and older. I am certainly looking forward to reading Seth's next adventure.
PWT rating: ♥♥♥♥♥
Published by Chicken House, The Last Chance Hotel (Seth Seppi Mystery 1)
by Nicki Thornton is available from Amazon and bookshops.