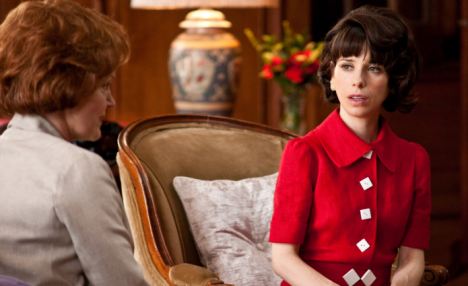 If you think
Made in Dagenham
is simply a bit of history given given
cinematic treatment
, think again. Research just released show that
women
on average earn
16 per cent less
than men for equivalent work. And you only have to read the newspaper headlines of cases where women in the
financial services
have taken their employers to court to know
sex discrimination
still exists. For that reason alone I'd
recommend
anyone over 15 sees this film.
However
Made in Dagenham
, is much more than a
history
lesson. It's a
great film
, starring
Sally Hawkins, Bob Hoskins, Miranda Richardson, Geraldine James, Rosamund Pike, Andrea Riseborough, Daniel Mays, Kenneth Cranham and Jaime Winstone with the
screenplay by
William Ivory and
directed by
Nigel Cole.

The acting is superlative – Geraldine James as the shop steward almost brought to her knees by her war veteran husband counter-posed by Rosamunde Pike whose husband (factory boss Rupert Graves) treats his Cambridge educated wife like a servant. There are a couple of great scenes between her and Sally Hawkins the feisty mum who suddenly finds her political voice to defeat not just management but the male dominated union structure as well. Plus there's Miranda Richardson playing Barbara Castle with an imperiousness that has her aides grovelling and the audience roaring with laughter.

The footage at the end of Made in Dagenham of the actual women (then and now) involved in the 1968 dispute makes fascinating viewing.

If you don't manage to catch Made in Dagenham at the cinema, buy the DVD when it is released – the film is certainly worth watching more than once!