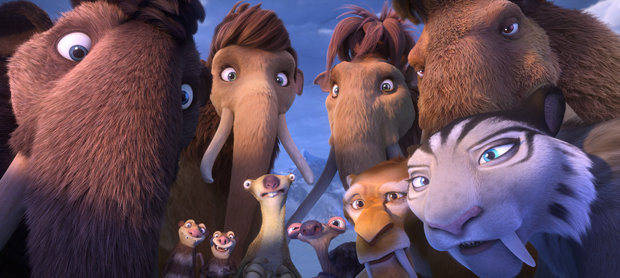 This was my first Ice Age film but not so for Harriet who filled me in on some of the previous ones. Even so she found the opening sequence quite scary due, in part, I think to the loud volume. However there was raucous laughter during the opening credits in the preview we attended at the Empire Leicester Square.
Scrat's epic pursuit of the elusive acorn catapults him into the universe where he accidentally sets off a series of cosmic events that transform and threaten the Ice Age World.
To save themselves, Ellie and Manny, stressing about their daughter and forgetting his own wedding anniversary, Diego the sabre-toothed tiger and his mate Shira worrying about starting a family, Sid searching for love, and the rest of the herd must leave their home and embark on a quest full of comedy and adventure, travelling to exotic new lands and encountering a host of colourful new characters.
Will they be able to avert a major catastrophe?
This is not the most original or thought-provoking film you'll see this summer but Ice Age: Collision Course, number five in the computer-animated franchise, with its old-fashioned mayhem and slapstick is guaranteed to delight fans as well as younger children new to the series.
PWT rating: ♥♥♥♥♥
Ice Age: Collision Course – certificate U, running time 95 minutes – in cinemas now.