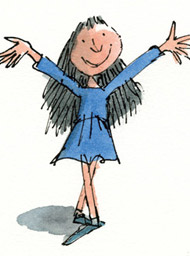 Royal Shakespeare Company presents Roald Dahl's Matilda, A Musical in the RSC's Courtyard Theatre in Stratford-upon-Avon from 9 November 2010 and plays for a straight 12 week run until 30 January 2011.
Directed by the Tony Award-winning Matthew Warchus, the book is by playwright and screen-writer Dennis Kelly, and the music and lyrics are by the anarchic Australian comedian, musician and composer Tim Minchin.
Kids' Tickets £10 offer is available for 9, 10,11, 16, 17,19, 23,24, 25 (evening), 26, 29, 30 November and 1 December. Just phone the hotline 0844 800 1110 and quote Children £10.
If you can't make
those dates
you can book
half price tickets
for children with the
family ticket
offer.
Family Day
– members of the
cast
and
creative team
explore the story and the
theatre making process
on
Saturday 22 January.