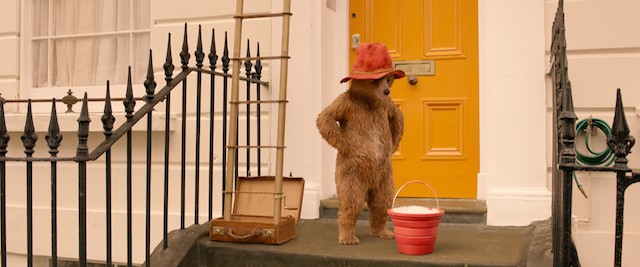 The Paddington 2 film was certainly much-anticipated in our family. If, like us you enjoyed the first Paddington movie (and who didn't?), you'll love the second just as much!
Paddington is happily settled with the Brown family in Windsor Gardens, where he has become a popular member of the community, spreading joy and marmalade wherever he goes. While searching for the perfect present for his beloved Aunt Lucy's 100th birthday, Paddington spots a unique pop-up book in Mr Gruber's antique shop, and embarks upon a series of odd jobs to buy it.
But when the book is stolen, it's up to Paddington and the Browns to unmask the thief… As Paddington embarks on yet another problem solving mission, things take an unexpected turn and he ends up not living with The Brown's any more. He makes some surprising new friends and ensures that he shares his (or rather Aunt Lucy's) wisdom along the way.
Harriet found both films rather scary in places. Her most favourite scene in the first film was when Paddington was in the bathroom and used the family toothbrushes to clean out the wax in his ears. She was delighted when this was extended in the sequel to include a cleaning of his nostrils and mouth as well with electric toothbrushes.
In Paddington 2 all the usual suspects are back for what is guaranteed to be a hilarious and fun filled couple of hours with an amazingly talented cast who don't disappoint.
We loved it however if you are anything like me you might also want to take a tissue...
PWT rating: ♥♥♥♥♥
A Heyday Films and STUDIOCANAL production, Paddington 2 is in cinemas from today, 10 November, 2017