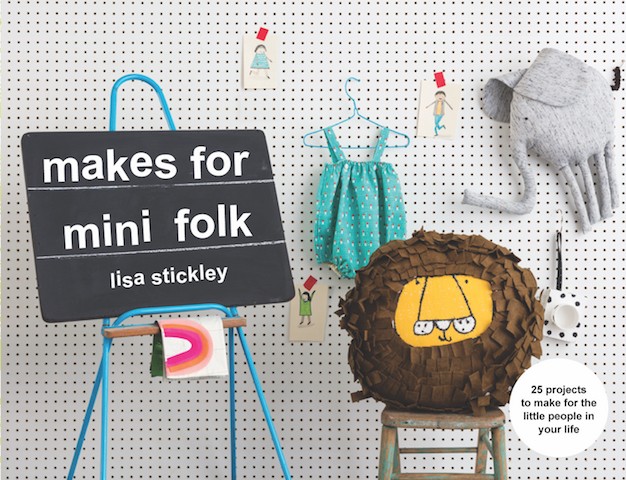 Knowing where to start with reviewing this book, Makes for mini folks: 25 projects for the little people in your life, by Lisa Stickley, proved more difficult than I had anticipated. I am a keen amateur craft person so was delighted to receive a book with new and interesting projects to do. All too soon I was investigating the activities to see what I could undertake individually and with others, both in the shorter and longer term. Its unusual layout made me slightly nervous at the beginning but by the end I was totally captivated and frequently returned to browse its combination of simple and more complex projects.
Makes for mini folks, presents a different way of writing instructions that, at first encounter, can appear quite daunting. A mixture of neat photographs of end results and novel hand-drawn illustrations, are combined with, at times, what appear to be wordy instructions. However, once acclimatised to the innovative style the instructions became easier to follow.
In this book there are projects for both the novice and more experienced craft addict, for adult use and to share with children. I adapted the ideas for the "cardboard-roll zoo" to enjoy practical time with my two and half year old grandson. We took turns to paint, cut (my turn of course) and stick, to create a cardboard-roll scarecrow for the local horticultural show. We got very messy but had a lot of fun in the process. It's true to say this book is all about having fun!
Projects range from gifts for newborns, practical ideas for the home and indoor and outdoor fun for the kids. There is also advice as to where to source materials and the best website to use.
The layout encourages you to dip in and out of the content as you would a magazine until you're ready to take the plunge and start doing some "serious making". Being mathematically minded I found the templates intriguing and often thought of how these could be easily adapted to create mathematical activities for children and young adults. It is unusual to find a craft book that still combines different imperial and metric dimensions for example and uses technical mathematical language such as "enlarge".
I did wonder however what the family reaction would be if I decided to hammer hooks into the doorframe in the living room to house the pop up shop/theatre, but felt confident I could find an alternative way if needed. Where there is a will there is always a way.
I highly recommend this book to keep on the bookshelf for those times when you maybe need inspiration or just plain fun practical activities to do with the children.
PWT rating: ♥♥♥♥♥
Published by Pavilion Books, Makes for Mini Folk: 25 projects to make for the little people in your life
by Lisa Stickley is available fro Amazon and book shops.