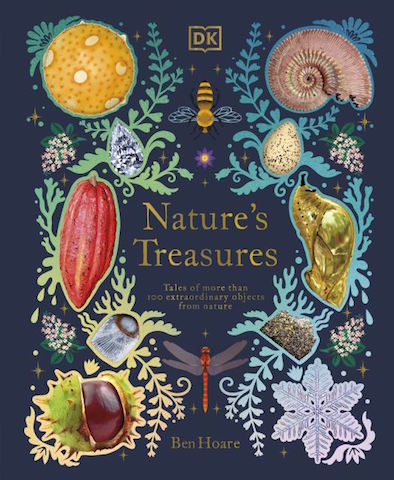 Wow. What a book. Nature's Treasures is absolutely amazing. Firstly I must comment on the physical production of Nature's Treasures. As one would expect from a DK book, it is top quality with a beautifully foiled cover that is so solid and robust the book will endure years of handling and reading. Add in the gold edges and Nature's Treasures feels completely sumptuous. The orange endpapers are beautifully designed and the illustrations by Kaley McKean are glorious. As well as those illustrations, there are also stunning photographs throughout to exemplify the text. In addition, not only does the white space enhance the images, but it means that the writing is totally accessible to independent young readers, being brief whilst containing incredible information so that even the most reluctant young reader can access the text.
Nature's Treasures is divided into sections covering animals, plants, fungi and algae, minerals and rocks, and items made by nature, with sensible advice for young nature spotters at the beginning and a useful glossary and index covering everything from aardvark to zinc at the back.
Every section is packed with information. Indeed, whilst Nature's Treasures would make a brilliant gift for individual children, it would also enhance any KS2 classroom because there are so many other references within its pages such as the etymology of fulgurite so that young minds can be inspired to learn more beyond the pages of the book.
There's so much to discover within the pages of this book that I cannot praise Nature's Treasures highly enough. It is fantastic and would make a wonderful present. Buy it!
PWT rating: ♥♥♥♥♥
Published by DK Children's Books and available from bookshops and Amazon Nature's Treasures: Tales Of More Than 100 Extraordinary Objects From Nature
Find out more about the author and illustrator and other book reviews by Linda Hill here