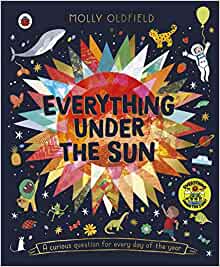 This wonderful book is guaranteed to get your child thinking and encourage them to formulate their own questions too. Everything Under The Sun by Molly Oldfield allows them to learn about the world around them in a fun and informal way.
However, this book is not just for children, it is something that can be enjoyed by the whole family (I've learned lots too!). It is a treasure of fascinating facts, beautifully presented with colourful illustrations by a range of artists. There is a question and explanation for every single day of the year (plus an extra one for leap years).
If you'd like to know why Poland has a desert, how rhinos make their horns or when we first started wearing clothes, then the answer is here, at your fingertips. You can work your way through the book one day a time or dip into it at will.
As a primary school teacher, I have enjoyed sharing it with infant aged children. It has proved to be a brilliant "go to" book for those odd moments, particularly if you find questions that are related to your class topic.
I would unreservedly recommend this book for children of all ages. It would make a great Christmas present as it is the sort of book that is bound to become a favourite and will be treasured for years to come. Enjoy!
PWT rating: ♥♥♥♥♥
Published by Ladybird and available from bookshops and Amazon: Everything Under the Sun: a curious question for every day of the year