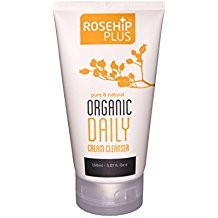 The RosehipPLUS Daily Cream Cleanser, £19.00/150ml, is a cream based cleanser, blended with Organic Rosehip Oil, Jojoba and Sea Buckthorn essential oils to maintain the skins perfect moisture balance.
The cleanser can be used to remove make-up and impurities from the skin which will leave you feeling refreshed and prep skin perfectly for the rest of your regime.
What I particularly like it that this cleanser can be used in two ways. As a cream, you massage into your face and removed make-up with a cottonwool pad. Or if you like to use water you can splash the cleanser from your skin.
Personally I like to remove make-up with a cottonwool pad and then apply the RosehipPLUS Daily Cream Cleanser a second time and remove with a hot flannel. This leaves my skin feeling really clean – like having applied a face mask – and ready for bed!
You really only have to use a little of the cream so I expect this 150ml tube will last a long time.
Perhaps even more important – for the environment – is the fact that the container and cap is biodegradable.
PWT rating: ♥♥♥♥♥
RosehipPLUS Organic Daily Cream Cleanser, 150 ml
is available from Amazon and other outlets.