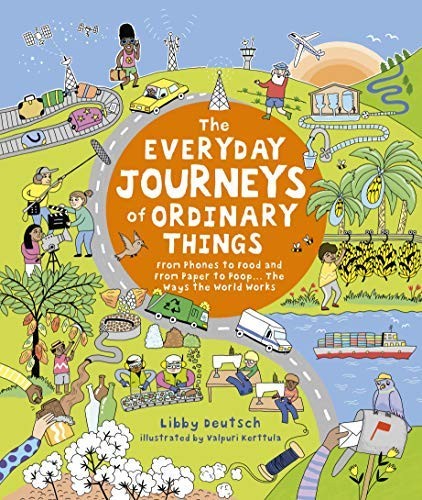 Illustrated by Valpuri Kerttula, The Everyday Journeys of Ordinary Things by Libby Deutsch is a fabulous collection of "how" stories for primary aged children.
What makes ordinary things happen and how? There are twenty double page spreads that explain the processes in bite-sized chunks of narrative with arrows pointing the reader in the right direction and illustrations to encourage more discussion.
The characters in the book reflect our multicultural society and avoids gender stereotyping. There is something for everyone in The Everyday Journeys of Ordinary Things so young readers may start with what intrigues them most and then progress to other topics.
Harriet's three favourites are "From Tree to Tummy – how chocolate is made from cocoa beans"; "From Tree to Paper" and "How Does Post Reach Me?". She had lots of comments to make about "What happens when I flush? The story of poo".
Masses of information presented in a fun and engaging way which will inspire and promote conversations.
PWT rating: ♥♥♥♥♥
Published by Ivy Kids Everyday Journeys of Ordinary Things
by Libby Deutsch is available from Amazon and book shops.