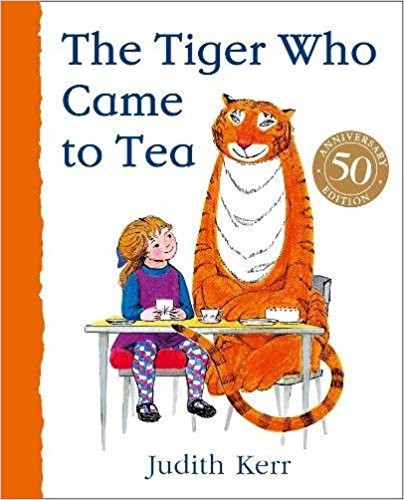 What is there not to love in The Tiger Who Came to Tea? Judith Kerr's story and illustrations are fabulous. She has inspired children's imaginations with an amazing tale which just begs to be read aloud. Just think about opening your front door to a very polite tiger who can speak and tell you that he is very hungry!
The story has delighted children – and adults – since 1968. A little history lesson from a time when milkmen were commonplace and the grocer's boy delivered by bike. There is a lovely wistfulness about the story and the tiger who never came back again.
The 50th Anniversary edition is a beautiful board book which makes a perfect present to be treasured.
PWT rating: ♥♥♥♥♥
The Tiger Who Came to Tea
is available from book shops and Amazon.