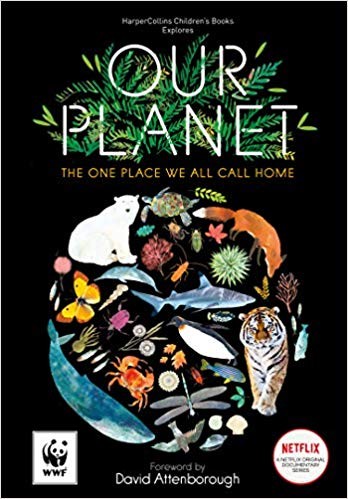 HarperCollins Children's Books has just published a glorious highly-illustrated non-fiction hardback children's gift book of Our Planet based on the hugely successful Netflix series written by Matt Wyman, illustrated by Richard Jones, with a foreword by Sir David Attenborough, in partnership with WWF.
Our Planet is a fabulous introduction to "the one place we can all call home" and is a call to action to save our world coupled with an ultimate message of hope that will resonate with all the family.
At the end of the book is a double page spread of spectacular photographs of filming behind the scenes of the series followed by a useful glossary and index.
The narrative is dived into seven sections:
Our Frozen Worlds
Our Jungles
Our Coastal Seas
Our Deserts & Grasslands
Our High Seas
Our Fresh Water
Our Forests
and each one gives and overview, introduces stories and ends with ways to protect the area.
By emphasising the relationship between the reader and Earth by using the possessive pronoun "our", the reader is made to feel part of the solution.
The amazing photography is something to pause over and absorb alongside the exquisite illustrations from acclaimed artist, Richard Jones.
We can learn about how every habitat, and the plants and creatures living there, interconnect in a completely fascinating way to create the one place we all call home, our planet.
Perfectly suited to children of all ages, and printed using environmentally sustainable materials, this is the perfect gift for families the world over to treasure forever.
PWT rating: ♥♥♥♥♥
Our Planet: The official children's companion to the Netflix documentary series with special foreword by David Attenborough
is available from Amazon and bookshops.