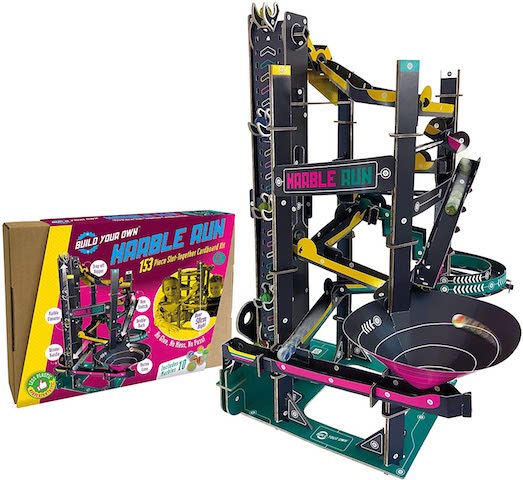 The packaging of Build your own Marble Run was bright and engaging; our son said, "This looks ace!" and it is something I would definitely look at in the shop and consider buying, after all the promise on the box is "No glue, No mess and No Fuss!" which is a parent's dream not to mention the sustainability factor.
On opening the box, we were all a little overwhelmed – there are so many different pieces. Not to back down over a challenge we set to work. The instructions are bright and the added dimension of colour coordination and symbols make it easy to know where things slot together.
The build time is said to be four hours and it's aimed at children eight plus, with adult help. Our boy is eight and has quite a short attention span, so after the first hour became distracted and less interested in the process of building. Some of it is quite fiddly and we were left to fathom things out for ourselves. I'd be prepared to build over several days to keep younger children invested in the process (or potentially be a parent left to your own devices to get the finished article up and running).
After five and a half hours we were finished. The marble run is very clever. Switches send the marbles down different paths and off on separate trajectories. It took us a few attempts to fine tune it and get it all working perfectly, but the instructions were invaluable with a full segment on trouble shooting should anything not be working as planned.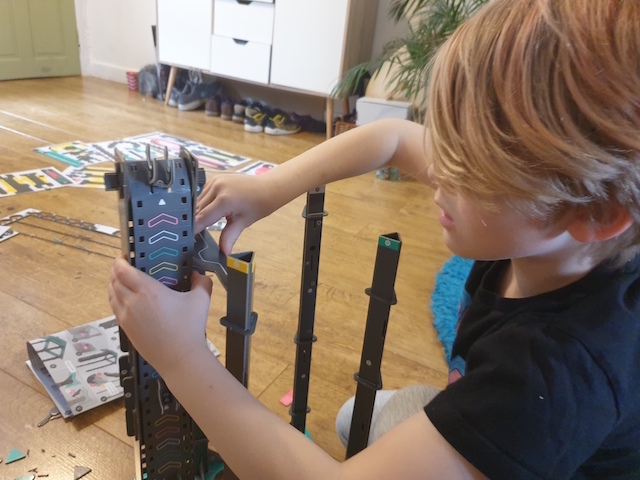 So what did our son think? In his own words "it's very cool, but a little scary, it might break" and he wasn't far wrong. After five minutes of play, one of the tracks shifted slightly from where it should have been and the marbles started to drop out, and despite his best efforts he couldn't fix it alone, so we came in and put it right. Another five minutes and another part had come loose. So back we went to fix it again. After the third time this happened his interest in it was lost, although it did inspire him to pull out his own marble run set and create his own track from scratch. This would be great toy for a child that is calm, and studious and maybe a little older. Our son however is energetic, loves to build, but also loves to play sometimes a little to roughly which means that ultimately Sellotape and staples may be needed to keep it in one piece.
One week later: it's still relatively unscathed. The marbles still go round the track, but we did relent and strengthen some of the joints with sticky tape, so it's been more resilient than we anticipated, it's even been involved in some Lego shenanigans and I believe that some of the mini figures have been trapped on it (and survived) when it was co-opted into becoming a trap for the baddies to trap the goodies in.
Final thoughts: No glue? Well, technically – although a little bit of sticky tape did help the constant call for us to keep fixing it. No mess? You do need space and there are a lot of tiny pieces of punchboard and card that get popped out. As long as you tidy as you go then they've got that sorted. No Fuss? Define fuss! There were a few frustrating moments when we misread instructions at the start and had to dismantle the whole thing and start again, and our boy who was at the youngest suggested age did lose interest but overall it's a no fuss deal.
However there are other kits in the range that our son has expressed an interest in getting. Personally we'd go for a simpler one next time to keep him engaged for the whole process, but it kept us busy for an afternoon in lockdown, has been played with since and the sense of satisfaction as your first marble completes its run around the finished track is one that is definitely worth working for.
PWT rating: ♥♥♥♥
Build Your Own Cardboard Marble Run | Create a Fully Functioning Cardboard Marble Run | Includes x10 swirly glass marbles | For Kids Ages 8+ | Sustainable Slot Together Kit | Educational & STEM