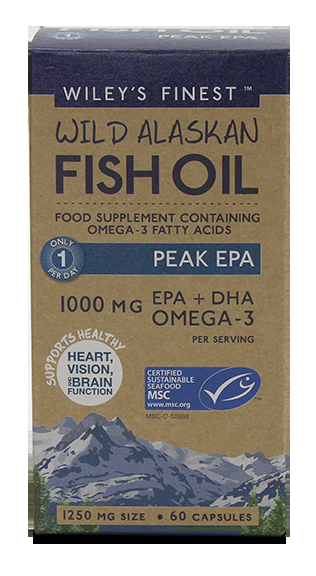 Help boost your immune system and fight infections with Wiley's Finest Wild AlaskanFish Oil containing Omega-3 fatty acids.
With viruses and bacteria resistant to antibiotics and vaccines less reliable against the threat of infectious diseases, it is more important than ever to ensure you are getting the right nutrients to protect your body.
Babi Chana, Nutritionist and Biochemist for Wiley's Finest, explains why Omega-3 is the essential nutrient to help your immune system:
"Omega-3 fatty acids help our immune system resist and fight infections such as colds and flu. They build healthy mucous membranes – the delicate skin that lines the airways and digestive systems, which act as a first line barrier guarding against entry of germs into the body.
"Omega-3 EPA produces 'eicosanioids' that produce beneficial effects in the regulation of inflammation, immunity and blood clotting.
"What is also crucial is the balance of vegetable oils and fish oils in the diet. In the British diet, there is usually an over consumption of Omega-6 (found in foods such as vegetable oils and artificial margarines). Too much Omega-6 promotes inflammation, blood clotting and opposes the benefits of Omega-3.
"I recommend a daily dose of one to two capsule of Wiley's Peak EPA, taken with main meals."
To be in with a chance of winning just answer this question:
Who is the Nutritionist and Biochemist for Wiley's Finest?
Please write Wiley's Finest in the subject line of your email and include all your contact details. There will be three winners – one member and two non-members.
This competition is now closed.
The winners will be the senders of the first correct emails opened in each category after 12 pm on Friday 9 February, 2018.
Available from wileysfinest.co.uk, yourhealthy.co.uk and Whole Foods, £33.99 for 60 capsules.