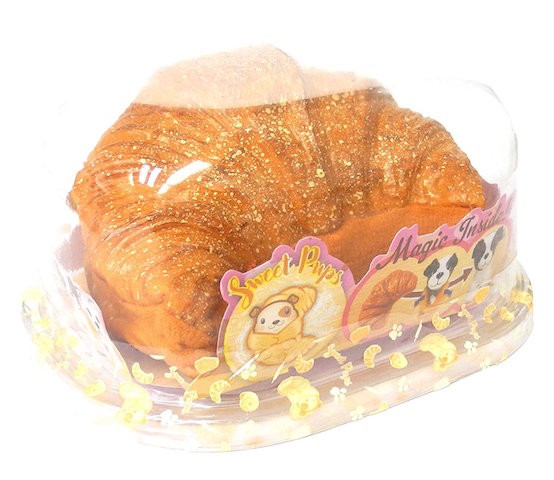 Sweet Pups are a cute range of soft, plush puppies hidden inside scrumptious looking pastries.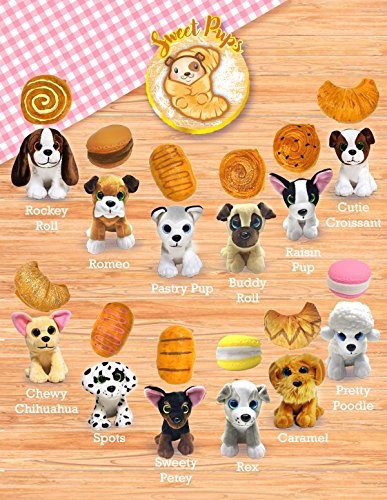 Sweet Pups look like the most delicious croissants, macaroons and sticky buns on the outside. Opening the pastry package, reveals the wonderful scented aroma of the pastry. But wait, it's not edible, there is a wonderful surprise hidden inside instead!
Harriet was intrigues when she saw the one we were sent and loved opening the "cake" and turning it inside out to reveal Rex the puppy. And the puppy slips back into the cake casing whenever you want to surprise someone.
There are 12 adorable breeds to collect in series one, and your child won't know what s/he has until the cake is opened. However there's no worry about doubling up as each puppy only arrives in one specific cake.
Choosing your favourite could be as hard as deciding on a sweet treat from a wonderful patisserie!
Harriet immediately wanted to know where they are sold so she could collect some more. Not exactly a pocket money toy at £7.99 but a nice present for a classmate's birthday.
PWT rating: ♥♥♥♥♥
Sweet Pups 1610032 Soft Toy
are available from Claire's Accessories and Amazon for £7.99rrp.