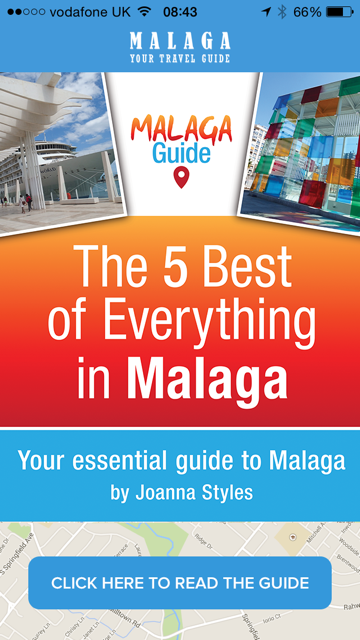 Malaga Your Travel Guide is a brilliant App (available for all smartphones) that gives you the 5 Best of Everything: Essentials, Sights, Things to do, Sleeps, Eats, Buys.
So Essentials brings up Emergencies, Malaga calendar, Toilets (see where they are on the map), Tourist information and Transport from the airport and around Malaga.
All information is just a tap away. Looking for tourist offices, see them on the map, tap the one nearest to you and up will come all the info you need including the all important opening hours.
If you're looking for fun activities for children,Malaga Your Travel Guide offers the top five attractions including Crocodile Park with a pithy paragraph to describe what's on offer, directions to get there, opening times and and prices.
You can also be guided to your destination from your current location via a Google map.
Joanna Styles is a Malaga resident and the huge plus factor of the App over the traditional book guide is that all the information is totally up-to-date.
A perfect travel guide for all the family and takes the stress out of being a tourist in Malaga.
PWT rating: ♥♥♥♥♥
Malaga Your Travel Guide costs £3.99.