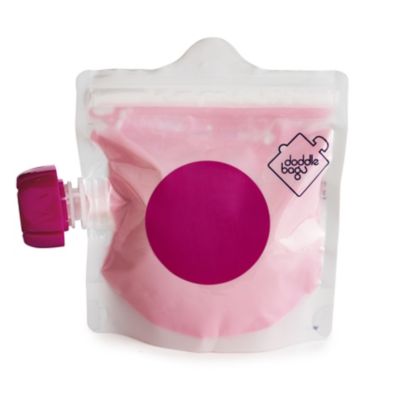 Recently I purchased a Nutribullet which has definitely enabled me to increase my fruit and veg intake, however, the flasks/containers that come with the blender are quite large and not compatible with a small work bag or going out on the move during the day (unless I am taking my enormous "mum bag" of course!).
I was intrigued to see how the Doddlebags would work and whether they would be large enough to make it worthwhile. The Doodlebags have a handy opening at the top which is wide enough to pour in whatever you are filling the bag with easily and without mess. The spout at the side is then used to squeeze or suck out the contents.
These Doodle Bags have expert sealing technology to prevent leakages and are compact enough to fit into a small handbag. Once the contents is consumed, obviously they are even smaller!
The 10 x 100ml bags are both freezer and lunchbox friendly, and are transparent on one side to enable those of us with a forgetful trait to recognise what the content is once frozen. The pack also comes with handy colourful labels/stickers that match the anti-choke caps provided. (They are great as packed lunch drinks/smoothies when frozen, keeping the lunch cool as they defrost.) They are also hot water and dishwasher safe - music to any busy parents ears!
I was also interested to learn that the pouches can be used for not only smoothies, sauces and other food items, but also paint and toiletries, handy for days out and holidays.
We spent a great afternoon in the garden using the pouches as paint pots, which prevented too much chaos and paint explosions.
You can also buy Doodle Brush and Spoon attachments.
The bags are also BPA, Phthalate and PVC free.
A great buy and highly recommended.
PWT rating: ♥♥♥♥♥
Doddlebags (10 for £9.99) are available from Lakeland and in stores.