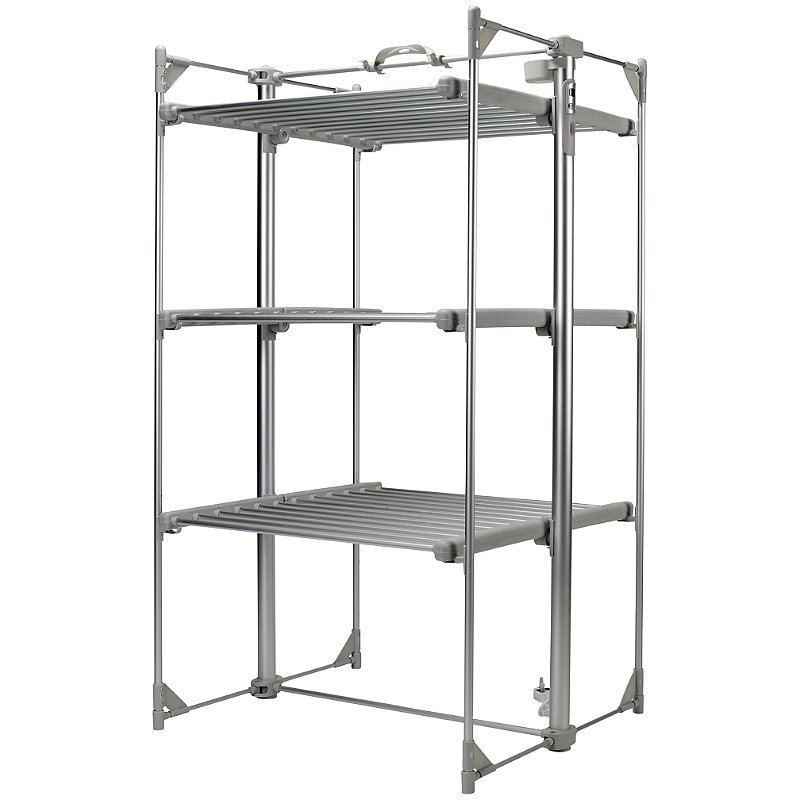 I can't believe that it's four years since I reviewed the Dry-Soon Three Tier Heated Tower Airer from Lakeland. It was the perfect answer to how to get washing dry if you don't have a tumble dryer or the items cannot be dried in one. Best of all it is really cheap to run. Alex Bell, one of our team, was so impressed she asked for one for Christmas. Well since then the wizard designers have been hard at work to improve the model.
The Dry:Soon Deluxe 3 Tier Heated Airer has dispensed with the central pole so there is even more convenient hanging space. Similarly to the previous model this one can be folded flat for storage when not in use, with a useful handle at the top and clips at the sides.
However the major design improvement is that the Dry:Soon Deluxe 3 Tier Heated Airer has a timer so you can set your airer to switch on and off up to 12 hours ahead. This is perfect for me as I have an Economy 7 meter which means the electricity is cheaper at nighttime although this airer only costs six pence and hour to run. It also means you have complete control as to when the airer is on and off. The formation is also versatile as you can use both sides or just one and you can lay delicate items out flat. The airer offers 21 metres of drying space.
The instruction booklet is easy to understand although the only really technical bit is how to set the timer and that really isn't difficult.
I am totally won over by this Deluxe version and cannot recommend it too highly. Perfect for the autumn, winter and rainy days or apartments where you don't have outside space.
PWT rating: ♥♥♥♥♥
Dry:Soon Deluxe 3 Tier Heated Airer costs £109.99 and is exclusive to Lakeland.