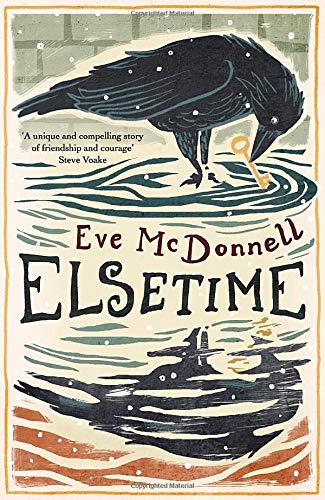 Ithington Town 1864 – a young mudlarker, Needle, seeks treasures to help his mother as his father has disappeared. He has learned to "read" what he finds and holds dear everything his father has taught him, in the company of his pet Crow. In a twist of fate he finds a portal and time-travels to January !928 where he meets Glory a young orphan with a wooden hand and a claim on Crow who has been crossing time zones all along.
They discover that a flood is going to kill fourteen townspeople – Glory included and an unnamed person in jail who turns out to be Needle's father caught in the future. Can Glory, Needle and their pet crow change the future? Is there anyone among all those people entombed in the snow-shrouded town who will listen? Time and circumstances are not on their side.
This is an exciting and engaging read which is beautifully written with compassion and wit. Middle grade readers who love historical fiction with a dash of fantasy will be enchanted. A magical story about friendship across time with a fabulous twist.
Highly recommended.
PWT rating: ♥♥♥♥♥
Published by Everything With Words, Eve McDonnell's fabulous books is available from bookshops and Amazon: