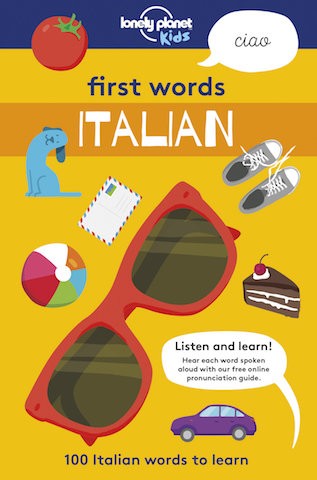 We are going to be spending a week in Sorrento in the summer, so First Words Italian was just the thing for Harriet aged eight and for me to refresh my O level Italian.
Harriet embraced this book enthusiastically. She has a good ear for music and language so was able to read and pronounce these words every quickly – there is a simple pronunciation under each word and a bold image from the illustrators by Andy Mansfield and Sebastian Iwohn to accompany each of the one hundred words which actually makes the English word redundant.
Also included is a free audio pronunciation guide. Scan the QR code on the back cover or visit our First Words website to hear each word spoken by a native child.
Anything which encourages children to explore foreign languages is useful in my opinion and I used to teach children French in small classes. First Words Italian is good but it could be better. It would be useful to have words in the same group following each other – for example transport, food, animals. Plus words for hello, goodbye, yes and no would be better grouped at the beginning of the book. I do hope we won't have to resort to asking where the hospital is!
However the greatest omission is the definite or indefinite article. We need to know whether it's un or una gelato. It's un gelato. This applies to nouns throughout the book. Fortunately there is plenty of white space on the page to add these small important words.
If I could award half a heart this book would merit three and a half.
PWT rating: ♥♥♥♥♥
Published by Lonely Planet Kids, an imprint of Lonely Planet, First Words - Italian: 100 Italian words to learn (Lonely Planet Kids)
is available from Amazon and bookshops.