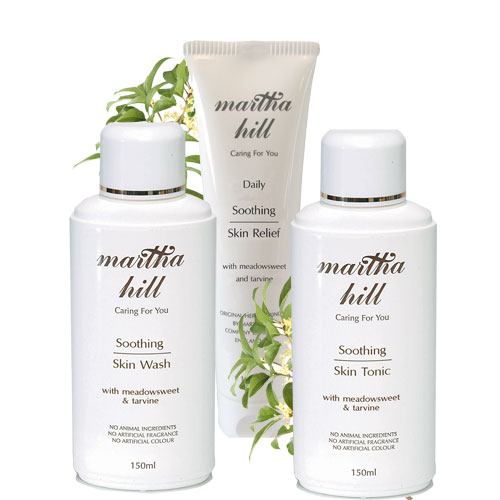 Beauty Naturals have created a three step solution for easily irritated maturing skin which is also beneficial for skin prone to acne and rosacea. The Martha Hill New Soothing Skin Care range includes Soothing Skin Wash, Soothing Skin Tonic and Soothing Skin Relief. I tried out all three products morning and night as recommended.

Soothing Skin Wash £9.50/150ml

I loved the Soothing Skin Wash which left my face feeling cleansed and refreshed. You only have to use a little of the product which foams up and removed make-up and daily dirt. There is no lingering tightness of the skin often felt after using soap to wash your face.
PWT rating: ♥♥♥♥♥
Soothing Skin Tonic £10.50/150ml

Folloing with the Soothing Skin Tonic completes the cleansing. Again you only have to use a little on cotton wool for maximum effect. This is also useful to revitalise skin during the day especially if you're feeling tired.
PWT rating: ♥♥♥♥♥
Soothing Skin Relief £16/100ml
I was slightly disappointed with the Soothing Skin Relief as my skin felt as though it needed a little more hydration. However I tried tried some on the back of my hands and found it left the skin feeling really smooth and soothed. You only need to use a little as with all these Martha Hill products so it is very cost effective.
PWT rating: ♥♥♥♥♥
Martha Hill New Soothing Skin Care range is free from artificial colour, perfume, SLS/SLES, primary petrochemicals and parabens and is available from Beauty Naturals.