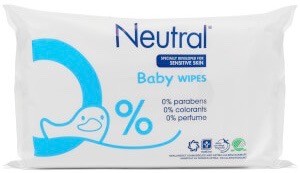 Neutral 0% - a complete home and personal care range designed to take care of sensitive skin for the whole family which is new to the UK. From face wash to baby wipes to fabric conditioner, Neutral's 0% formulations contain no perfumes or colourants, helping to take care of sensitive skin.
We received:
Neutral 0% Baby Wipes – gentle yet effective to leave your baby's skin feeling fresh and clean
Neutral 0% Baby Bath and Wash Gel - a mild and effective bath gel specially designed for your baby's sensitive skin
Neutral 0% Baby Shampoo – a gentle shampoo designed for the most delicate of scalps
Sadly our family is plagued with sensitive skin and sczema. Sometimes this is aggravated by stress, diet and/or weather conditions. So it's always good to find products that are safe and gentle to use.

Harriet (soon to be seven) has used the baby wipes on her face and enjoys the freshness. I have used them to remove make-up when I'm in a hurry. I found there was a slight smell after use but that soon disappeared.
The Baby Bath and Wash Gel is perfect for use in the shower. I certainly didn't experience any itchiness or tightness after use which a huge bonus for me and I've even used the Baby shampoo when my scalp feels it need some gentle treatment.
Obviously this range is perfect for babies too.
PWT rating: ♥♥♥♥♥
Neutral 0% products only have necessary ingredients that clean and look after skin and clothes – covering all the family's needs. They are sold exclusively online, the full range of products is available from their website.