A new Shaun the Sheep DVD is always greeted with delight in our household. Spoilsport is no exception. The animated antics always have seven-year-old Harriet in fits of laughter. She digs me in the ribs and asks, "Did you see that?" Aardman has worked its magic yet again.
On this DVD, Shaun persuades Bitzer to take part in his game of cricket, but Bitzer is more worried about the condition of the pitch than the game. The resident moles, unhappy at the game taking place above their head, get involved in a tit-for-tat with Bitzer, which soon escalates to full-scale war whihc is hilarious.
Each episode is a mini-masterpiece: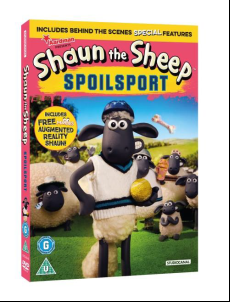 Out of Order
Karma Farmer
Spoilsport
Baa-d Hair Day
The Farmer's Nephew
Babysitter Bitzer
Bitzer's New Whistle
Dodgy Lodger
Timmy and the Dragon
Cone of Shame
DVD bonus content:
Behind the scenes interviews with Shaun The Sheep: Spoilsport's creative team
"Shaun the Sheep" is a firm family favourite with audiences all over the world and these episodes offer even more outrageous inventiveness, sheepish shenanigans and panic in the pasture.
Don't miss out on your appointment for more fun on the farm with Shaun the Sheep.
PWT rating: ♥♥♥♥♥
Shaun The Sheep - Spoilsport [DVD]
is available from Amazon.
Cert. U | Running Time: 70 mins approx. | RRP: £9.99