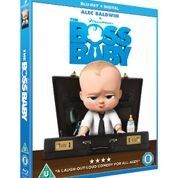 Having seen THE BOSS BABY twice now (once at the cinema and then more recently on a cold (yes cold) Sunday afternoon in July – it doesn't fail to deliver in cheering everyone up and making us all laugh!
Boss Baby arrives, much to Tim's dismay, dressed in a suit and carrying a briefcase. He manages to fool everyone it seems into believing he is a real baby. All... except Tim. Tim discovers his new "brother" is on a mission, and in an attempt to regain his old life, Tim embarks on the mission with him... what could go wrong when a seven-year-old and a baby take on a mission to save the world and the future of babies...!?
My daughter, Harriet's, commented:
"It was really funny. The funniest bit was when Boss Baby and Tim made all the sick and covered the pretend Nanny in it then put her head in the toilet!
Also when Boss Baby had his bottle and slapped the mum's hand out of the way so he could do it himself.
I liked it when Boss Baby came back as a real baby without his suit on. I loved this film!"
A thoroughly good watch. Definitely recommend for all ages.
PWT rating: ♥♥♥♥♥
DreamWorks Animation's THE BOSS BABY is available now on Digital Download, Blu-ray™ and DVD, from Twentieth Century Fox Home Entertainment.