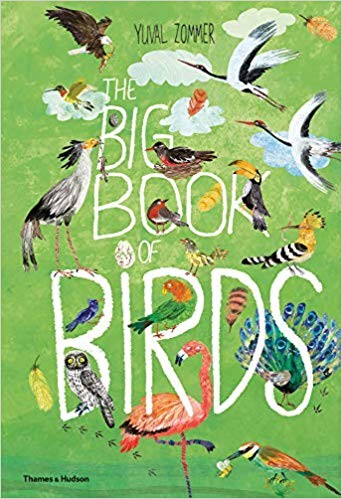 This follow-up to the hugely successful The Big Book of Bugs, The Big Book of Beasts and The Big Book of the Blue, The Big Book OF Birds by award winning author and illustrator Yuval Zommer is the perfect introduction to our feathered friends for young readers – and adults.
This is a fabulous book to dip in to if you have a question or to read from cover to cover and keeping the book on standby for when you may need it again.
The contents range from information on specific birds like magpies or robins (one of my favourites) to what to do and expect as a bird watcher and how to make your garden or balcony bird friendly. Many tips that Harriet and I will be putting to good use.
There's a comprehensive index which is always useful for cross-referencing as well as an illustrated page about useful "bird words" and what they mean.
Plus for younger readers there's an egg hunt – look out for the same egg which appears 15 times in the book but don't be fooled by the imposters. Don't cheat but the answers are on pages 58 and 59.
PWT rating: ♥♥♥♥♥
The Big Book of Birds
, by Yuval Zommer, is published by Thames & Hudson and is available from Amazon and bookshops.