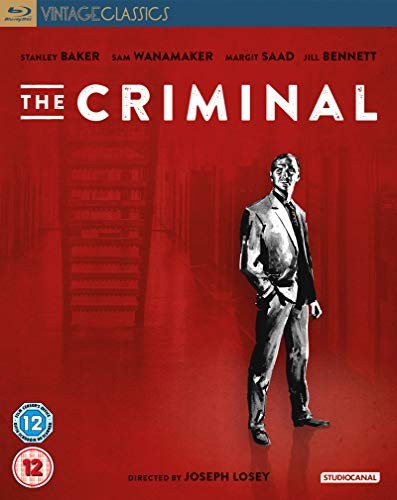 As part of the their Vintage Classics collection, StudioCanal is releasing a restored version of director Joseph Losey's 1960 gritty crime drama about the British penal system, The Criminal, on DVD, Digital Download and, for the first time, on Blu-Ray.
Featuring a great British cast including Stanley Baker, Sam Wanamaker, Grégoire Aslan, Margit Saad and Jill Bennett, The Criminal was deemed shocking upon its original release for its unashamedly graphic violence but was highly acclaimed for the beautiful stark black and white cinematography by Oscar winner Robert Krasker and cool score by jazz legend John Dankworth. The Criminal is an intelligent and naturalistic precursor to the British gangster film genre that continues to enjoy success to this day.
The film begins with Johnny (Stanley Baker) as the "Mister Big" in jail who manipulates both staff and inmates. While inside with a tip-off from another inmate he plans the biggest robbery of his career. On release, the robbery goes smoothly and Johnny buries the money in a field until the heat is off, as agreed with friend and racketeer Mike Carter (Sam Wanamaker) and the rest of the gang. In a moment of weakness, Johnny pockets five hundred odd pounds from the haul. Coupled with a tip-off from his ex-girlfriend (Jill Bennett) this proves to be his undoing and Johnny is soon back in prison. The rest of the gang try in vain to get the location of the money out of him without success until Mike hits upon the idea of a break-out using Johnny's new love Suzanne (Margit Saad) as bait...
For the 2019 restoration of The Criminal, STUDIOCANAL returned to the original camera negative wherever possible and, only when confronted by severe damage that could not be repaired, alternative sources were used. These elements were scanned at 4K resolution in 16bit. The project involved over 200 hours of manual frame by frame fixes and resulted in the creation of a new DCP, and a new HD version, which were produced with the same high technological standards as today's biggest international film releases.
I had never seen this film before and was captivated. The theme and settings are perfectly complemented by the monochrome filming. The violence and corruption depicted within the prison system resonates with what still happens in our prisons today.
Perfect for those who love old black and white movies and students of cinema.
PWT rating: ♥♥♥♥♥
The Criminal [Blu-ray] [2019]
and the DVD are available from Amazon.