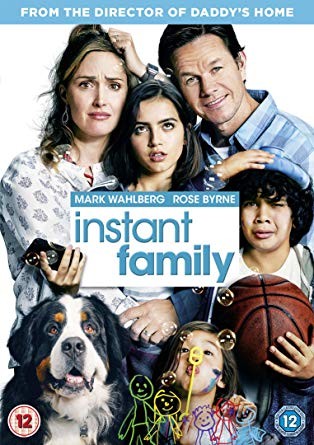 When you have a biological child you have nine months to get used to the idea and you gradually learn parenting "on the job". When you adopt you have to hit the road running especially when you take on three siblings and one is a teenager with attitude.
When Pete (Mark Wahlberg) and Ellie (Rose Byrne) choose to start a family, they stumble headfirst into the world of foster care adoption. After they learn their perfect foster child comes with two other siblings, Pete and Ellie find themselves speeding from zero to three kids overnight and must hilariously learn the ropes of instant parenthood if they hope to become a real family.
Inspired by a true story, Instant Family will resonate with all with all families – scenes of refusing to eat certain foods, wear appropriate clothes and just generally acting badly are common to all families. As many of us know, our extended families like to have their say as well. The two grandmothers in this movie and are brilliant (but I did want to know how they managed to remove the "face-painting done with Sharpies!). Plus everyone has an opinion whether asked for or not.
There are so many heart-wrenching scenes as well a belly laugh moments. Not every problem has a solution. Not everyone even in the fostering support group is "on message". These characters add to the humour and some of the sadness portrayed.
Instant Family is recommended for children aged 12 and over. Harriet, aged nine, had already seen it at the cinema and warned me about the bad language but she gave the film top rating: "I loved it."
PWT rating: ♥♥♥♥♥
Instant Family also stars Isabela Moner, Margo Martindale, Julie Hagerty, and Octavia Spencer and the DVD includes Bonus Content:
Deleted & Extended Scenes

Introduction by Sean Anders and John Morris

Gag Reel

Mr. and Mrs. Fix-It—Behind the scenes with Mark Wahlberg and Rose Byrne
Instant Family (DVD) [2019]
from Paramount Home Entertainment is available from Amazon.