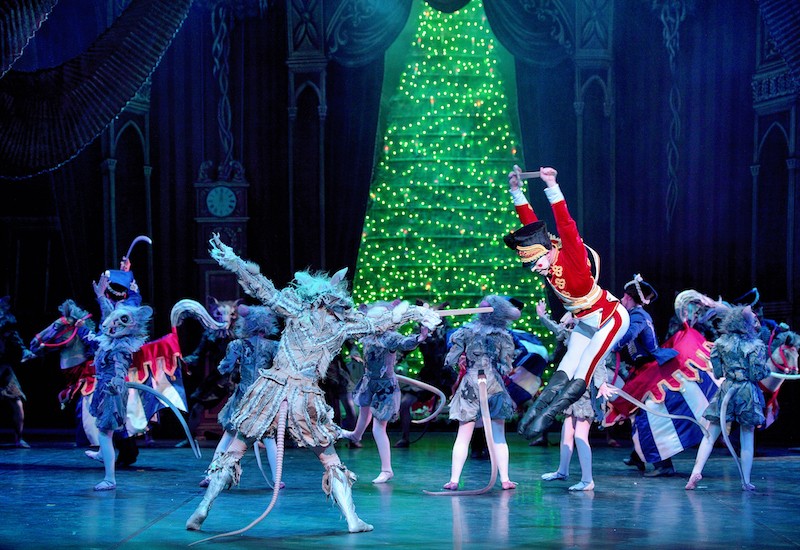 What an absolute treat to enjoy the magnificence of the London Coliseum where The Nutcracker is currently being performed by the English National Ballet. Harriet was enchanted by the decor and the amazing ceiling which added to the anticipation of the ballet.
Having been brought up on My First Ballets (seeing the first one when she was two), The Nutcracker was Harriet's first "grown up" ballet and at first she was thrown by the lack of narrator which they have in the My First Ballets. However as someone who learns signing at school she was soon into watching the dancers tell her what was happening.
The Nutcracker, with the music by Tchaikovsky, is a perennial Christmas favourite. The story of Clara, her naughty brother, and the Nutcracker she is given as a present at the family Christmas party. The magic at the witching hour of midnight transports us into another world where Clara is grown up and her toy, a dashing soldier. The Mouse King with his flaming red eyes, who attacks them accompanied by an army of vicious mice, is quite terrifying and Harriet clung onto me during this part. However she loved the dancers who were soldiers on "horses". The dance of the snowflakes is exquisite. And the descent of the hot air balloon with the Magician to whisk away the couple was fabulous – especially the the Mouse King hanging onto one of the ropes as it ascended,
This ENO adaptation is spectacular, witty and totally engaging. Needless to say the dancing, choreographed by Wayne Eagling, is superb, and so too are the magnificent sets, costumes and lighting.
We loved this ballet and would happily go again – no better recommendation. A perfect treat for Christmas.
PWT rating: ♥♥♥♥♥
Not suitable for children under five, The Nutcracker is at London Coliseum until 7 Jan 2017.
Box Office: 020 7845 9300 Tickets: £14 - £79.00