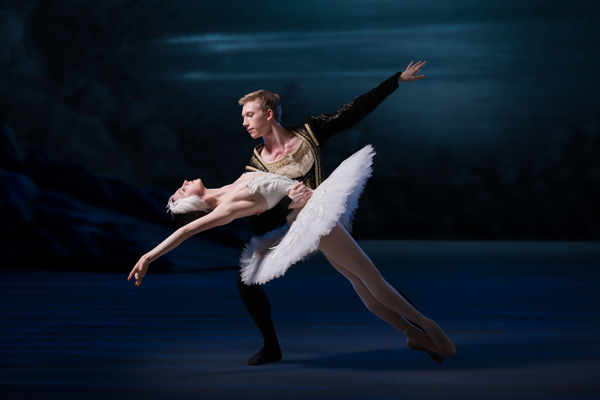 Harriet, a "veteran" of My First Ballets, was delighted to be going to see Swan Lake. Then disaster struck in Kingsway and seven theatres went dark during the power cut. A week later we were able to see the performance and it was certainly worth waiting for. A theatrical experience not to be missed. There was a fabulous sense of anticipation among the young audience (and the adults) as the curtain went up.
My First Ballet: Swan Lake starts with a feather, a swan's white feather, picked up from the stage by a mature Odette and so begins the tale of the princesses turned into swans by the evil, scheming Rothbart. Only a declaration of love can transform them back but when the prince does fall in love with the queen of the swans, he is duped into declaring his love for Odile, Rothbart's daughter.
The young audience was well and truly gripped. Harriet was terrified by Rothbart who was magnificently evil and said the part she liked best was where the prince and Odette fought him – and won.
Each of the My First Ballets, produced by the English National Ballet with second year dancers from the English National Ballet School, has had a narrator to introduce and explain the story to the children. It was inspired to have Odette (Saskia Portway) tell her own story as well as having the characters signing as the English National Ballet and English National Ballet School work in partnership with King's College London, Widget and Sign 2 Learn to make ballet more accessible to children with learning difficulties and disabilities.
And this is one event when I really advocate buying a programme which included the story outline in words and symbols, word matching, colouring as well as the usual company information.
PWT rating: ♥♥♥♥♥
My First Ballet: Swan Lake is on in London until 12 April on tour until the end of May: tour dates and booking.