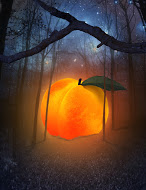 Welcome to The Wondercrump World of Roald Dahl an immersive experience to celebrate the centenary of the birth of one of Britain's best loved authors.
A guide will take you through eight rooms highlighting aspects or periods of Dahl's life or literary career. Take heart everyone who struggles with school – Dahl's report had him as a "muddler". Be inspired by your experiences – the idea for Charlie and the Chocolate Factory came from Dahl being asked to blind taste chocolate bars aged 13.
Move on to the writer's time in the RAF when he crash-landed into the Libyan desert in 1940. Wander through The Forest and squirm as you push your hand into the Giant Peach before entering The Twits Corridor and their upside down world. In The Library is a photo of the woman who inspired the character of Miss Trunchball in Matilda. While there you'll be asked to try out your powers of telekinesis before finding the secret door within the shelf-lined room.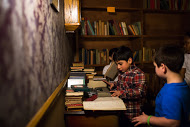 In The Attic you'll see Dahl's size 13 sandal which he went to his illustrator, Quentin Blake as the prototype for The BFG's footwear. The Attic, of course it exactly the right height for The BFG to peer in and please share your dreams to light up the dream in a bottle section before a dream escapes...
In the Inventing Room you can explore the wall of farts (270 Whoopee cushions)and the Tantalizing Title Mixer as well as dress up for the photo booth. Hidden away for you to find is a galley proof of Charlie and the Chocolate Factory.
The Wondercrump World of Roald Dahl is a fantastic journey into the mind and life of one of the greatest storytellers who takes you into perplexing and dark spaces where the imagination is a serious business.
The tour, suitable for seven to 12 year olds, lasts 56 minutes and groups of 15 will be escorted round every 15 minutes during busy sessions. The narrative is scripted by Laura Dockrill and spoken by Peter Serafinowicz.
I absolutely loved this and would go again.
PWT rating: ♥♥♥♥♥
The Wondercrump World of Roald Dahl runs until 3 July when it transfers to Cardiff.
Photos (c) Victor Frankowski.