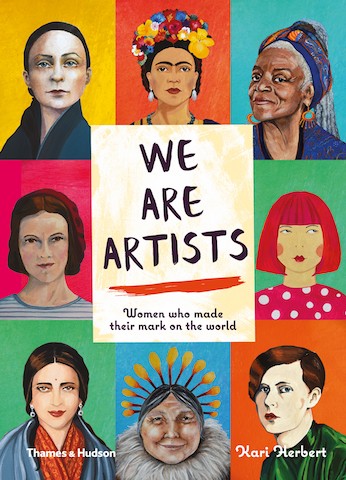 As Kari Herbert says in her introduction the artists in this book – We Are Artists – represent only a fraction of the amazing women who became artists in their own right. 15 female artists from all over the world are celebrated in a collection of biographical narratives which reveal how each artist's unique approach and perspective provided the art world and society with a new way of seeing things.
In We Are Artists, Kari Herbert shines a light on women painters, sculptors, printmakers. illustrators, designers and craftswomen so often overlooked in history and art history books for children. These are personal stories to inspire young readers and aspiring artists whatever their gender.
The book finishes with a Hall of Fame which gives biographical details, followed by a useful Glossary of terms used, a Bibliography for further reading and a comprehensive Index.
In her introduction Kari Herbert exhorts young artists to follow their dreams. The Manifesto preceding it says it all:
Pick up a brush or a pen,
It doesn't matter what...
Believe in yourself.
Let your imagination run free.
Be brave.
Stand tall.
Now, make your mark...
And remember
You are amazing.
You can create anything.
In art, there are no rules...
Fabulous advice to follow.
PWT rating: ♥♥♥♥♥
Published by Thames & Hudson, We are Artists: Women who made their mark on the world
by Kari Herbert is availabel from Amazon and bookshops.