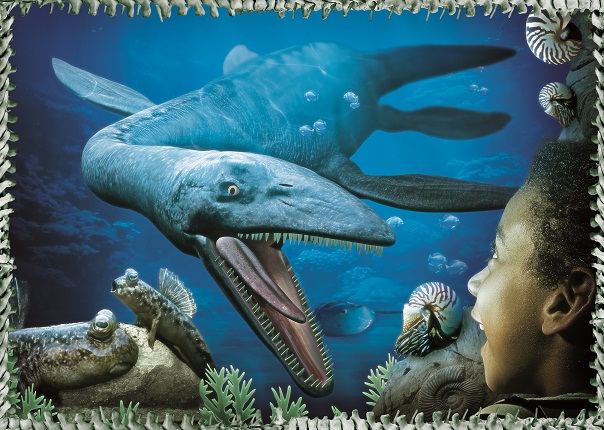 Oh, we do like to time travel beside the seaside…
OK, so hands up. Who'd like to travel back in time to the age of the dinosaurs? Who'd like to see what it's like to swim with a seventy foot long megalodon? Or discover who'd win a race between a modern day Olympic swimmer and a deadly plesiosaurus?
Oh, and while we're about it, who'd also like to come eyeball-to-eyeball with a real live green anaconda, a shoal of piranhas and a colony of deadly poison dart frogs? And take a ride on a glass bottom boat across a 750,000 litre underground pool, packed with sharks, turtles and hundreds of species of fish?
After kindly being asked by Parenting Without Tears whether I'd like to go to the launch of latest attraction at the revamped and renovated Sea Life aquarium in Brighton, I asked my two youngest daughters (aged seven and 10) the above questions and unsurprisingly received a resounding answer of "Yes".
Jurassic Seas is billed as an opportunity both to meet the weird and wonderful creatures still alive today that outlasted the dinosaurs, and to meet the now extinct gargantuan creatures of the Jurassic period themselves – albeit in virtual form.
While my kids were dead keen, I was somewhat skeptical. For one thing, I'm a bit of a luddite when it comes to technology, particularly computer games. For another, even though I live very close to Sea Life Brighton, I hadn't been there for a few years, partly because the attractions there never seemed to change very much, and partly because it was always a rather oppressive, gloomy, and dank place to visit.
It was a very pleasant surprise, then, to discover that change had indeed been afoot during my absence. An enormous amount of effort and money – over £10,000,000 – has clearly been spent restoring what is the oldest operating aquarium in the world to its former glory.
All the lead paint has been chipped off the stonework, leaving the Victorian columns and brickwork pristine. The lighting has been reconfigured too, making the main part of the aquarium, including its reasonably priced café and surrounding tanks feel airy and bright. The General Manager, Max, calls it his "cathedral" and he has a point. It's come a long way from the subterranean cavern it felt like before.
The Jurassic Seas attraction itself turned out to be innovative, informative and memorable. Visitors get to see some of nature's great survivors in the form of sea creatures like the snake neck turtle that were around during the Jurassic period (200 to 145 million years ago!).
The attraction also boasts a state-of-the-art interactive zone, which rivals, if not surpasses, anything I've seen in London's Natural Science and Science museums. This allows visitors to run a number of immersive simulations of what life was like beneath the waves during the Jurassic period. Even more thrilling, visitors get to "control" some of the three of the largest (up to 70 foot long) underwater creatures of the time.
I have to admit that any luddite reservations I had were swiftly washed away by this "gaming technology of the future", as I watched the kids take turns to stand before a leap motion control plinth in front of three giant screens and, using only hand gestures, manipulate three different virtual gargantuan beasts through their brilliantly realised virtual underwater environment. Breath-taking stuff, with a few heart-stopping surprises thrown in too.
There's also an enormous amount to do at the aquarium other than the Jurassic Seas attraction. Plenty of helpful and well-informed staff are at hand to engage adults and kids alike about the 3,500 creatures on show. There are plenty of important environmental messages to soak up too. All in all a great day (well, two to three hours) out. I'd highly recommend it to anyone. Five stars. Or fins. Or gills. Whichever might be more of a fit.
PWT rating: ♥♥♥♥♥
Sea Life Brighton, Marine Parade, BN2 1TB is open from 10.00 to 17.00 – ticket deals are available online.
Emlyn Rees is the co-author of The Very Hungover Caterpillar and We're Going on a Bar Hunt.