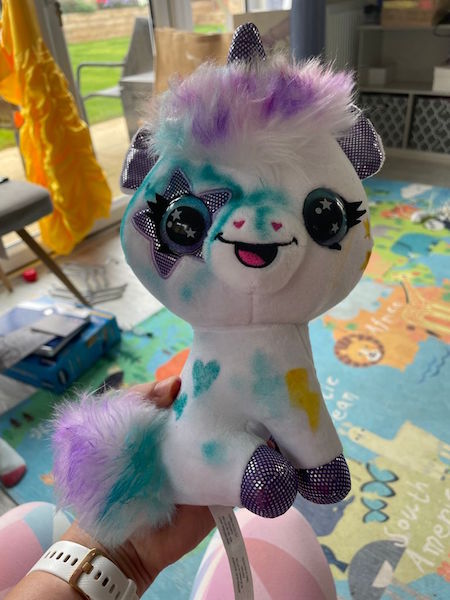 This beautiful Airbrush Plush Unicorn kit, from Canal Toys, was worth its weight in gold just to see the look of awe in our granddaughter's face when I said this would be arriving in the post for her to try. And, to be fair, it does not disappoint. It was a smash hit straightaway.
Obviously as soon as it arrived the four and a half year old wanted to open the box but was eventually persuaded to wait for a time when her 15 month old brother was having his afternoon nap. Airbrush paints, or paints of any sort, and toddlers are not always a good combination as most parents would know.
The packaging is very attractive and clearly shows what's needed (plus of course craft apron and wipes). The paint easily washes off hands and clothes so no real panic should spillages occur. Younger children will need some adult supervision; older ones can do it themselves. Always a bonus.
There is certainly a "Wow" factor with the Airbrush Plush Unicorn, not only for the child but the adults too -– we definitely love it. It's fun and exciting. As the publicity says "the magical creature really does come to life" using the spray and stencils.
Photo shows our first attempt: Such a happy chappie!
The spray gun is easy to use. The child can use it freehand for their own designs, use the stencils provided or a combination of both. The stencils are very good for encouraging and reinforcing shape recognition skills.
The Airbrush Plush Unicorn is easy to wash and a cloth is included. This means it can be used time and time again! Endless pleasure. Only delay is the time it takes to dry after wiping. Children are never the most patient at the best of times especially with another fantastic experience awaiting them.
The four colours for the pens are well chosen in soft pastels, emphasising the magical nature of the unicorn. The only minor downside is the limited number of colours. Perhaps a different top-up set could be made available that can be purchased separately? For avid supporters, like us.
The Airbrush Plush Unicorn from Canal Toys now takes pride of place on the top of the craft box, always awaiting its next excursion.
A definite hit and great for a Christmas present available from toyshops and online.
PWT rating: ♥♥♥♥♥