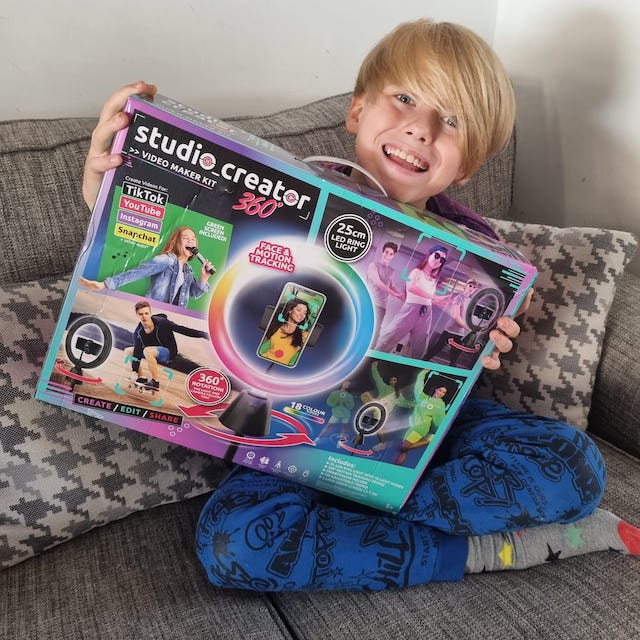 When we first got the Studio Creator Mason was so excited and you can see why. The packaging is bright colourful and engaging and it says "exactly what is on the tin" in a fun and engaging way so we were very excited to get it open, set it up and get going!
The set up is very simple, it's worth noting you will need 3 AA batteries that are not included. The wire is also a USB wire but luckily, we have many a plug in our house and we quickly found a compatible one.
The app was a little trickier. To use the features, you need to download the app "Souing" which we did with ease but unfortunately the initial screen was in Chinese, I have been assured that Canal Toys had the app originally designed in China and that it should now be in English, so I'm not sure whether it was the play store that I used to download the app or my phone. Anyway, I'm not one to back down so I clicked what I presumed was accept and then everything changed to English and the terms and conditions screen appeared again.
The app is easy to use and even easier to connect to the device. It has an array of features for filming from changing the shape of your face, to changing the background green screen to any picture you want.
The best feature we found by far was the tracking feature, Mason could dance around to music and the tracking feature would move around to make sure he was always in frame, this coupled with the disco ring light I can see why kids would love it!
Mason spent hours looking through the different features taking photos and filming and he hasn't stopped since. In fact, he has chosen to use the ring light in his room, even when he's not filming. The colour options are fabulous, and he can control them easily at the touch of a button.
The possibilities with the Studio Creator are endless as it's compact and light enough to take outside and will work with a portable power bank. Obviously in dry weather only.
What you get with Studio Creator 360
1 Colour LED ring light (25cm)
1 Motion detect 360 device
1 Tripod (1m)
1 Phone holder
1 Green screen (150x100cm)
Instruction sheet
Parent's View
The Studio Creator is brill, the app took a little time to get into and work for us oldies, but Mason had it down in no time at all. The green screen is great, but I would say it would be fab if it was a stand-alone, pop-up style green screen. We taped it to the stairs, with ease and it worked really well.
We would recommend this product if your child is into any of the social medias that are video, and photography based. We could see it would work very well for mini bloggers or dance enthusiasts.
Child's View
I love this, I love it when it follows you around the room so no matter where you go it is always there! I also love the light on it because you can set it to whatever mood you feel!
PWT rating: ♥♥♥♥♥
Studio Creator 360 from Canal Toys is available at Smyths Toys RRP £44.99