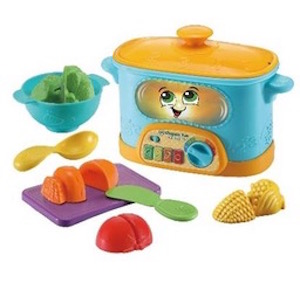 This is a stimulating toy with a number of functions to enhance learning play. It comprises these separate pieces:
a large-ish toy cooking pot, a bit like a Slow Cooker in that it has a dial and some button controls
a toy chopping board
a bowl for the vegetables
a spoon and a (safely blunt) knife.
four toy vegetables (sweetcorn, carrot, tomato and broccoli), each brightly and appropriately coloured.
The idea is to engage the child or children in imaginative play around cooking. The pot's voice can suggest various recipes and prompts the child what to do. "Chopping the vegetables" is a matter of inserting the knife into the plastic vegetable. The vegetables are in fact made of two halves which click together and spring apart when the knife is gently inserted. When the child drops the vegetables into the pot they can match the colour and kind of vegetable to the turn and slide controls and so on. Lights and voices encourage the child and help familiarise them with numbers, colours and counting (up to ten).
The Choppin' Fun Pot is intended for children aged 12 to 36 months. I gave it to my granddaughter, who is eighteen months old, so towards the younger end of the range. Like most children her age she has a short attention span but she played with it for 55 minutes without pause. She was very keen to try out all of its functions. Later in the day, we played with it again and this time she was able to play the role of "Mummy (and sometimes Daddy) cooking."
Downsides? OK, it is plastic – but the toy foods are made from "85 per cent plant-based plastic" ie plastic made from renewable sources. The automated voice can be a little high for adult ears during the songs – but then it is carefully aimed to appeal very young children, which it does.
The best – and possibly unique – thing about the Pot, in my view, is that it makes the noise of the water boiling (at different speeds depending on the recipe used). Its range of educational prompts is wider that many toys for the same age group.
Conclusion: a great present!
PWT rating: ♥♥♥♥♥
The Leapfrog Choppin' Fun Pot costs £22.99 from Smyths Toys Superstores.