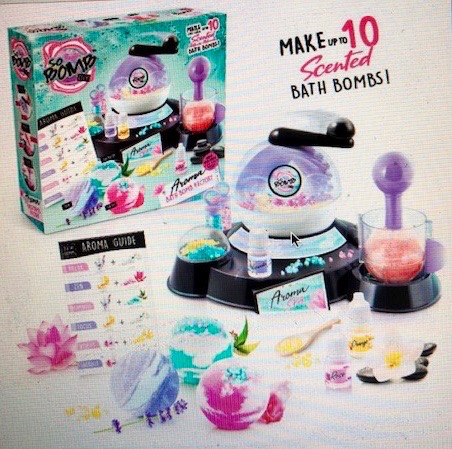 With So Bomb Factory Aroma children can create fragranced bath bombs mixing and designing their own combinations of fragrance and decorations.
Inside the box you have:
1 x factory

5 x baking soda bags

5 x citric acid bags

3 x scented salt bags

3 x fragrances

1 x fragrance guide

1 x decoration bag

2 x moulds

1 x Instruction sheet
This activity was fun and I love bath bombs. The instructions could have been clearer as when putting some of the equipment together, it wasn't obvious how to do it.
It takes 30 minutes for the bath bomb to dry in the mould. Make sure it is air dried, as I put one of mine in the microwave (obviously not turned on) so that nothing would happen to it, but then the top of it wasn't as smooth as the first one I made and left out.
I found that the mixer wasn't effective, as I had to stir with a spoon to get all the lumps out.
The bath bomb worked really well but I would have added more essence.
PWT rating: ♥♥♥/♥
So Bomb Factory Aroma (£21.99) is from Canal Toys who are at the forefront of the new trends with best-selling So Slime DIY, So Bomb DIY and So Sand DIY.