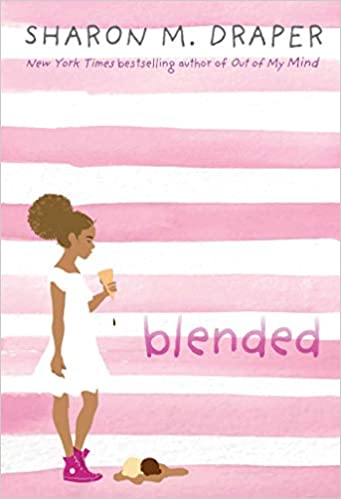 When Isabella's parents divorce, she hopes that life will become calmer – she will no longer be torn apart by their arguing. Both parents stress that they will love her and be there for her but soon both have new partners.
Isabella spends alternate weeks with each parent. Her father lives in a smart house with Anastasia and her son where they are they are one of the only black families in the neighbourhood. Her mother lives more modestly with her boyfriend, John-Mark, in a house she loves.
Isabella feels she doesn't belong in either setting. Her mother is white, her father black. Neither community embraces her – she is seen as different, exotic. However how can she ever feel a whole person not a product of two different ethnicities?
Blended by Sharon M. Draper is a beautifully written novel which engages the reader from the first page and never lets your interest wane.
What I really loved was how Isabella's situation is woven into her music and leaning to play the piano. It's something she's really good at and when she has an important recital, can her two parents bury the hatchet and both be there to support her?
The narrative doesn't fudge tough issues and although the reading age guideline is from eight I would think that's probably too early to appreciate and understand some of the themes. Likewise children older than 12 would enjoy this.
This is a thought-provoking story pertinent to our times. The publishers have supplied som discussion points to be shared in class or reading groups.
PWT rating: ♥♥♥♥♥
Blended
, published by Simon & Schuster is available from bookshops and Amazon.