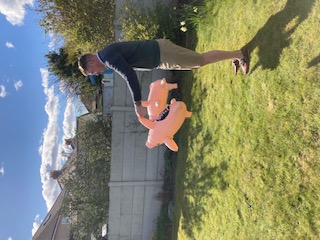 Just in time for the relaxation of lockdown rules, the Giant Pass the Pigs game arrived for an Easter get together in the garden with my brother and his children Ava (eight years old) and Finn (six years old) – so we inflated our portly pigs and away we went.
The game is easy to set up and play and the scoring meant that the kids could practice their adding up skills. The inflatable pigs are of good quality and come with a handy puncture repair kit (just in case). Naturally, the pigs were flung and thrown at each other once the game had finished but they are robust enough to withstand the tom foolery.
The YouTube video implies that there should be a deflating rod to help deflate the pigs once finished – but that wasn't included in our kit. We did get a handy carry bag though, which I imagine would be useful for transporting to the beach.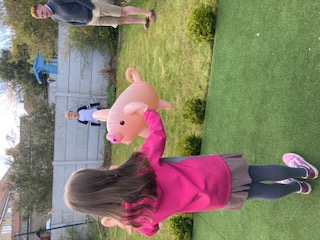 We thoroughly enjoyed playing the game, with both children's comments being "I loved it" and "Awesome". It's also a game that the kids of this age can be left to play on their own without the help of an adult which is always a bonus when the grown ups want to catch up.
The only thing that we thought might improve the game is having the landing "positions" on a large Twister style mat so that everyone can see without having to huddle round the small pictures on the score booklet. I think as you play the game more often you'll get to recognise the positions without the need for a reference sheet, however it would be useful if there is any dispute surrounding the difference between a "snouter" or a "leaning jowler".
Otherwise, it's a thumbs up from us, fun for all the family and a perfect addition to the garden game set.
PWT rating ♥♥♥♥
Created by Winning Moves and available from Amazon: