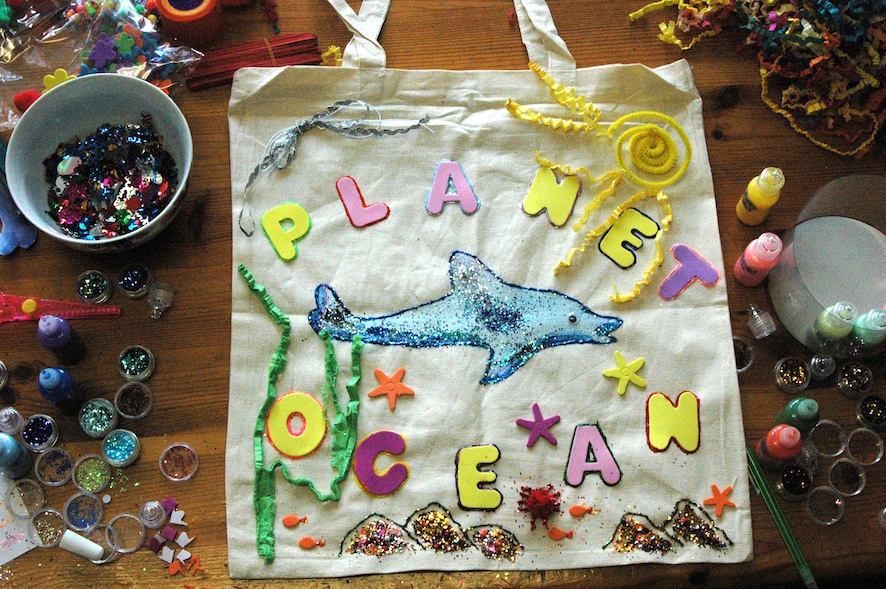 To make this stunning shopping bag you will need:
Recycled canvas bag
Ice lolly sticks
PVA glue
Fabric Paint (18 bottles with assorted colours in matt, pearlised and glitter finishes)
Fabric letters
Pipe cleaners
Yellow & green crepe paper
Glitter pots
Sequins
Scissors
Pencil
What to do:
Choose your pattern or picture and stencil around the image with a pencil.
Using the fabric paint, colour in your image and use the flat side of the ice lolly stick to smooth out the paint.
Once you've coloured in your aquatic animal use one of the darker coloured fabric paints to outline the edges of your picture.
While the fabric paint dries, use PVA glue to stick down the fabric letters for your caption.
Curl pipe cleaners into a circular shape and stick down with PVA along with yellow fringe crepe paper to give you a 3D sun.
Stick down green crepe paper to create seaweed for your deep sea themed canvas bag.
When your fabric paint has dried, apply PVA and spread with a different ice lolly stick. Sprinkle coloured glitter over your picture to make it sparkle.
Make and stick down a bow and use the fabric paints to outline the letters you stuck down earlier.
Make your canvas bag stand out even more by adding sequins and more glitter. You can also make mini pom poms and felt flowers to create your own starfish, fish and crab.
Leave your bag to dry properly for four to six hours. And there you have it; your own conservational eco canvas bag raising awareness of our Planet Ocean.
Blue Planet : Complete BBC Series (Special Edition 4 Disc Box Set) [DVD]
is available from Amazon.