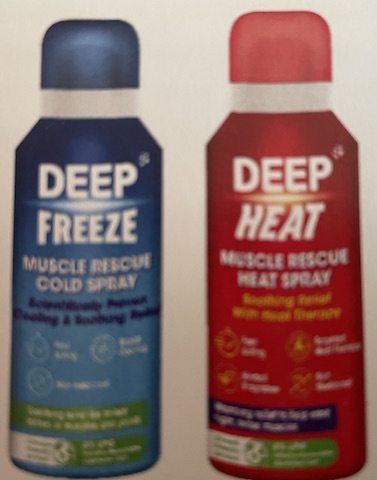 We all know how important exercise is for our physical and mental health. However painful joints and muscles often impede our movements and make us reticent to work out. If your exercise programme is on hold due to painful and achy muscle and joints, Mentholatum has two new products to bring non-medicinal relief: Deep Heat Muscle Rescue Heat Spray and Deep Freeze Muscle Rescue Cold Spray.
We've covered Mentholatum Deep Heat and Deep Freeze as well as their range of other products including patches and belts here. But now they have two new products in their repertoire which are also eco-friendly.
Deep Heat Muscle Rescue Heat Spray
This provides a non-medicinal complimentary heat therapy to help ease and soothe tight, tense muscles. It's fast acting and offers a targeted warming sensation. This spray is enhanced by the addition of two aromatherapeutic ingredients: wintergreen and eucalyptus essential oils. Available from Boots, Superdrug, grocery and pharmacies at £5.99.
Deep Freeze Muscle Rescue Cold Spray
Here a long-lasting an fast-acting cooling sensation soothes minor aches in muscles and joints, conveniently providing all the benefits of ice-cold therapy without the disadvantages of finding some ice. Available from Boots only until March 2024 at £5.99.
This is a really handy product to keep in your or your kids' sports bags to be used when necessary. Also a perfect gift to add to a Christmas stocking.
While both these products offer valuable non-medicinal care, they also are planet-friendly. The eco-valve used replaces LPG with compressed nitrogen which isn't ozone depleting and is completely inert and and harmless. The cans are made from aluminium which is recyclable as are the cap and actuator.