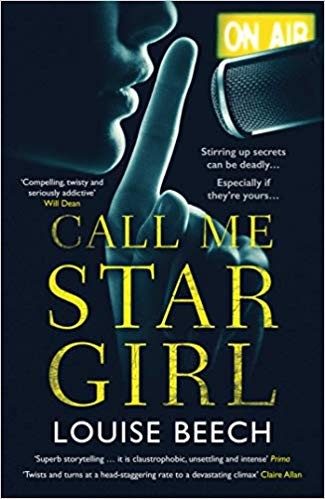 Call Me Star Girl
by Louise Beech
During Stella McKeever's final radio show, she invites listeners to share their secrets and she'll share hers. Will she reveal the games she plays with her boyfriend Tom? Her relationship with the mother who left her 14 years ago and has now returned? The precious perfume bottle with its star-shaped stopper?
What Stella wants to know is the identity of the mysterious man who keeps calling the radio station claiming he witnessed the murder of pregnant Victoria Valbon three weeks previously. She would also like to discover the identity of her father... and why her mother walked out on her when she was a child.
The relationship between mother and daughter is fascinating especially as Elizabeth, a woman who didn't want a child has reinvented herself as a doula, helping pregnant women.
The narrative is cleverly interwoven with different character's viewpoints from the past and the present culminating in an explosive and breath-taking dénouement.
Louise Beech presents us with a very different book from her previous work – her first psychological thriller which is perfectly plotted and beautifully written.
PWT rating: ♥♥♥♥♥
Published by Orenda Books, Call Me Star Girl
by Louise Beech is available from Amazon and bookshops.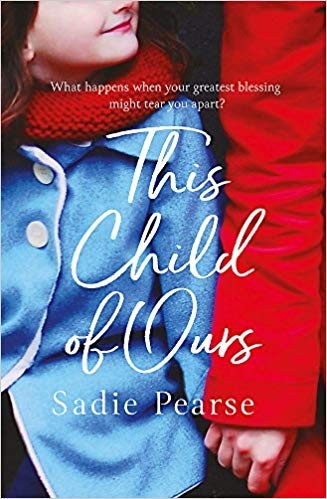 This Child of Ours
by Sadie Pearse
Sally and Theo look as though they have the perfect marriage, both devoted to each other and their seven-year-old daughter Riley. However when Riley says she doesn't feel comfortable in her own skin and begins to show behavioural problems at school, each parent reacts differently as do both sets of grandparents. Initially I was put off by the smugness of the romanticised couple which was soon dispelled as they faced a problem that would tear them apart and threaten their existence as a family.
The topic of gender dysphoria is prevalent in the media and Sadie Pearse writes about the issues with compassion and sensitivity especially through the voice of the child. I have no direct personal experience of parenting a child who wishes to change their gender or become non-binary but This Child of Ours is thought-provoking. I felt the narrative didn't need to include some of the sub-plots and so would have benefitted by being shorter and more focussed.
This Child of Ours is Sadie Pearse's first book but she has written nine others under two other names.
PWT rating: ♥♥♥♥♥
Published by Sphere, This Child of Ours: A daughter's cry for help is tearing her parents apart
by Sadie Pearse is available from Amazon and bookshops.
Anne Coates is the author of the Hannah Weybridge crime thriller series: Dancers in the Wind - a gripping crime thriller (Hannah Weybridge)
, Death's Silent Judgement (Hannah Weybridge)
and Songs of Innocence (Hannah Weybridge)